Medical Negligence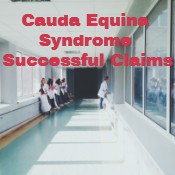 Cauda Equina Syndrome Successful Claims
If the medical management of your cauda equina syndrome fell below an acceptable standard, and this caused you to suffer injury, you will be entitled to pursue a medical negligence claim for compensation.
To find out more, you need to speak to a medical negligence solicitor without delay.
Successful cauda equina claims
In order to make a successful claim for cauda equina syndrome, it is necessary to establish:
That there has been a breach of duty
That this breach of duty has caused a wrongful injury
All medical practitioners owe their patients a duty of care. This means they must provide a standard of care that would be deemed acceptable by a reasonable body of medical men. With regards to cauda equina syndrome, a reasonable standard of care would involve:-
Recognising the red flag symptoms of cauda equina syndrome
Carrying out a detailed neurological examination of a patient with the symptoms of cauda equina syndrome
Referring a patient to a specialist for review, in light of their symptoms and examination findings
Performing an urgent MRI scan to verify or rule out a diagnosis of cauda equina syndrome
If cauda equina syndrome is confirmed, carrying out emergency decompression surgery
If patient is not provided with an acceptable standard of care, such as that described above, medical professionals will have breached their duty of care towards him/her.
Cauda equina syndrome is a serious condition that requires emergency treatment if long-term complications are to be avoided. If there is a breach of duty, it is very likely that this will result in a delay in diagnosis and treatment.
As there is only a small window of opportunity to successfully treat cauda equina syndrome, any delay could mean that a patient develops permanent neurological problems. This means that the breach of duty directly caused a patient's injuries.
When a breach of duty causes unnecessary injury, the patient is considered to be the innocent victim of medical negligence.
Compensation for cauda equina syndrome
Anyone who has been wrongfully injured as a result of medical negligence is legally entitled to pursue a claim for compensation. This is intended to reflect the physical and emotional pain and suffering, and to recover any money that has been lost because of the negligence.
Compensation for successful cauda equina syndrome claims often runs to tens or hundreds of thousands of pounds.
If you would like to find out more about claiming compensation for medical negligence, please get in touch with us today. We will advise you upon your options, suggesting whether you are in a position to pursue a claim.
Can We Help You With A Medical Negligence Enquiry?
Early legal assistance can be vital so please contact us if you would like to discuss your situation. Please call us free on 0800 234 3300 or complete our Online Enquiry Form.

Read more about cauda equina syndrome?
---