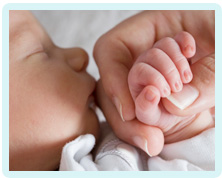 Perineal Tear
With over 500,000 natural childbirths per year, it is perhaps not surprising that a large number of women suffer perineal tears during the birth. Of the 500,000, approximately 50 to 60% of the women will need stitches but more worryingly 2% will suffer tearing that reaches the anus. That is over 10,000 women a year who experience perineal tears that require anal suturing.
The Potential Complications From A Perineal Tear
The major complications from a perineal tear can include:
General pain and discomfort
Painful sexual intercourse, known as 'Dyspareunia'
Anal incontinence
Social problems
Psychological issues arising from these problems
The severity of the symptoms is determined by the degree of the perineal tear. These tears are classified in the following way:
First degree perineal tear: injury to the skin only
Second degree perineal tear: injury to the perineum including the perineal muscles but not including injury to the anal sphincter
Third degree perineal tear: as above but also including injury to the anal sphincter
Fourth degree tear: as above but the tear also goes deeper into the anus causing tearing to the anal epithelium
Repairs to Perineal Tears
Repairs to first and second degree tears are usually carried out by the midwives and will include suturing under local anaesthetic with a thorough examination to ensure that the stitching does not go into the rectum.
Repairs to third and fourth degree tears are more complex. Repairs should be carried out by obstetricians or colorectal surgeons as the stitching is more complex. The repairs will be carried out under local or general anaesthetic and should usually be carried out as soon as possible after the birth.
After the stitching has been applied the treatment will continue with antibiotics to reduce the chances of infection, and laxatives to prevent damage to the repair.
Once the patient is mobile and able, pelvic floor muscle exercises will be advised. If problems persist (such as anal incontinence) there is likely to be a referral to a gtnaecologist or a colorectal surgeon.
Prognosis
Fortunately, 60 to 80% of patients will have no symptoms after 12 months. The remaining patients will have ongoing symptoms of varying degrees.
When Might A Perineal Tear Lead To A Medical Negligence Claim?
There are several reasons that might allow you to make a claim for compensation as a result of a perineal tear. These can include:
Failue to recognise the increased risks of a tear or to take any preventative action
Failure to recognise and treat any damage to the anal sphincter
Failure to identify the tissues accurately during treatment
Faiure to carry out any repair to the damaged area
An untrained person carrying out the repair
No anaesthetic provided
Failure to remove a swab or other treatment item from the damaged area
Use of the wrong items for the repair leading to a breakdown of the repair requiring further treatment
Failure to arrange follow up and to act on the symptoms
Your Choices?
If you have suffered a perineal tear during childbirth and any of the above applies to you, you should urgently seek advice from a medical negligence specialist. They will be able to explain your options to you so that you can decide if you would like to pursue the matter further. Many will be able to help you under a Medical Negligence No Win No Fee agreement saving you the costs of pursuing the claim and providing you with an insurance policy to take away the risk of you having to pay any legal costs to the National Health Service Litigation Authority.
Is There Anything Else You Can Do?
If your medical team had clear evidence that you were highly likely to tear but failed to take action to prevent the tear, you may be entitled to make a claim for compensation for medical negligence. This is also the case if the tear is not recognised at the time of birth. To assess whether this is possible, we can offer you a free initial appraisal of your treatment, not only investigating the circumstances of the tear but also considering any other treatment that might be available for you.
Costs Of A Claim
If we can help you to make a claim for compensation following a childbirth tear, you will benefit from the following funding options:
Conditional Fees ("no win, no fee")
Legal Expenses Insurance
Private Funding
Structured Payment Plans
If you would like to benefit from a service of excellence with total commitment to client care from a small and friendly team, Glynns are ready and waiting to help you.
Please call us on 0800 234 3300 (or from a mobile 01275 334030) or complete our Online Enquiry Form.

Make An Enquiry
Why Choose Us
Specialist medical negligence solicitors
Free initial enquiries
No win, no fee available
Reviews
"Before we contacted you we had no real idea that we had grounds for a medical negligence claim but after speaking to you if became clear that Wendy was indeed treated poorly. Chris took the time to explain what was happening and kept us to speed. Our deepest gratitude to you all and Chris in particular."
Mr And Mrs H
Helping Clients Across England & Wales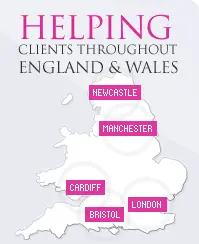 Free Birth Injury Guide