Necrotising Fasciitis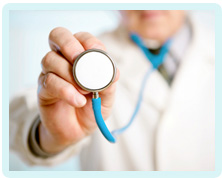 Necrotising Fasciitis Symptoms
Necrotising fasciitis is a bacterial infection that must be treated in the early stages of the condition. A quick diagnosis is therefore vital. In order to reach a timely diagnosis, it is down to medical professionals to recognise the early symptoms of necrotising fasciitis.
To make a free, no obligation enquiry about Necrotising Fasciitis or any hospital superbug, please call us free on 0800 234 3300 (or from a mobile 01275 334030) or complete a Quick Enquiry online now.
Symptoms of necrotising fasciitis
The first warning sign of necrotising fasciitis is an intense pain in one concentrated area of the body. This will be the site at which the bacteria have entered the body. The bacteria can enter through any break in the skin, no matter how big or small. This might an obvious wound, such as a surgical incision, or it might be a tiny laceration, such as a finger cut.
When the bacteria get into the body they will begin to reproduce, releasing a poisonous toxin as they do so. This will damage the tissue, and it is this that causes the severe pain. Many say this pain is grossly disproportionate to the injury they have sustained; indeed, many are not even aware their skin has been cut or punctured in the first place.
This pain will get progressively acute over a period of 24 to 36 hours. Subsequently a person will also experience:
Skin that is red and hot to touch. This will be the same site of the intense pain;
Fever;
Nausea and vomiting;
Diarrhoea.
As the infection continues, these symptoms will become worse until a person is extremely unwell. The skin will become increasingly discoloured, turning from red to purple to black. The area of infection will also grow very quickly, causing more and more skin to become infected.
At what point should doctors diagnose necrotising fasciitis?
When someone with necrotising fasciitis first reports an intense pain, it can be something of a mystery as the cause will not be immediately clear. Sometimes there is not even a noticeable injury.
But as soon as this pain occurs in conjunction with the tale-tell signs of infection (such as fever and red skin that is hot to touch), alarm bells should start ringing in the minds of medical professionals. These symptoms should instantly lead doctors to diagnose a bacterial infection. All that needs to be clarified is exactly what type of infection is present.
Culture swabs should be taken at the site of infection and sent for testing. While the results are being collated, a patient should be started on intravenous antibiotics. The microbiology results should then reveal that a patient is infected with the necrotising fasciitis bacteria and further treatment provided as necessary. This will involve surgical debridement to remove the necrotic tissue.
What if doctors fail to recognise necrotising fasciitis symptoms?
If doctors fail to recognise the symptoms of necrotising fasciitis in a timely fashion, leading to additional complications and an extensive injury, there will be grounds for a medical negligence compensation claim.
Need Advice About Necrotising Fasciitis?
If you believe that you or a member of your family have been infected, please contact us for early legal advice. All initial enquiries are completely free of charge.
Please call us free on 0800 234 3300 (or from a mobile 01275 334030) or complete our Online Enquiry Form.

Make An Enquiry
Why Choose Us
Specialist medical negligence solicitors
Free initial enquiries
No win, no fee available
Reviews
"Before we contacted you we had no real idea that we had grounds for a medical negligence claim but after speaking to you if became clear that Wendy was indeed treated poorly. Chris took the time to explain what was happening and kept us to speed. Our deepest gratitude to you all and Chris in particular."
Mr And Mrs H.
Helping Clients Across England & Wales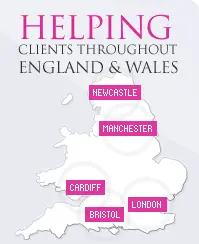 Free Necrotising Fasciitis Guide