Episiotomy Stitches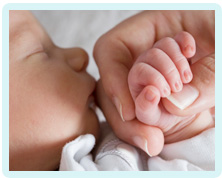 Episiotomy Stitches Guide
If you have had an episiotomy after giving birth, what will happen to the episiotomy stitches? How long will they remain in place, and what happens if one or two of them work loose? We have put this short guide together to explain more about episiotomy stitches to put your mind at rest.
Why Do Hospitals Perform An Episiotomy?
The episiotomy is usually made to ease the delivery of your child. It is a surgical cut into your perineum which is made if the medical team believe that you might tear without it. Once you have delivered your baby the medical team will usually stitch the episiotomy to ensure that you heal quickly. However, there can often be complications with episiotomy stitches.
Episiotomy Stitches
Problems with episiotomy stitches can include:
The stitches coming away leaving an open wound
Infection around the area of the episiotomy
Treatment
If your stitches have come away usually they will not restitch the episiotomy, preferring the area to heal naturally as you move about on a daily basis and the wound naturally knits together. You will be advised to keep the area around the episiotomy clean by ensuring that you wipe from front to back when you visit the toilet, and also to wash the area regularly. If you do become infected your medical advisers may prescribe a course of antibiotics (or more than one course may be required). However, generally this conservative treatment is all that is required to ensure you make a good recovery.
When Does Episiotomy Pain Amount To Medical Negligence?
Unfortunately episiotomies can regularly lead to medical negligence claims (often because the evidence did not suggest the need for the episiotomy in the first place). If you are experiencing ongoing problems we will be happy to provide a free assessment of your situation and explain your options to you.
Simply call us free on 0800 234 3300 (or from a mobile 01275 334030) or complete our Online Enquiry Form and we will be glad to explain your options and rights regarding your episiotomy.

---
Testimonials
"Before we contacted you we had no real idea that we had grounds for a medical negligence claim but after speaking to you if became clear that Wendy was indeed treated poorly. Chris took the time to explain what was happening and kept us to speed. Our deepest gratitude to you all and Chris in particular."
"I would like to say a big thank you to you for making this whole process easy and relatively painless. You kept me informed throughout and you were always polite and courteous in all forms of communication. I would not hesitate to recommend you to friends and family, so a really big thank you and I wish you all the best in the future."
» Read More Medical Negligence Testimonials?

Free Birth Injury Guide