Laparoscopic Cholecystectomy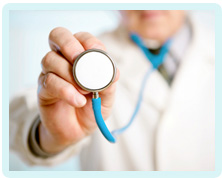 Gynaecological Laparoscopic Negligence Claims
Developments in electrical and optical technology have resulted in laparoscopic procedures becoming increasingly frequent. Indeed, nearly 250,000 women undergo this form of surgery every year in the UK, of which most are performed without the incidence of any problems. However, around one in 1000 will experience serious complications, many of which are caused by an unreasonable standard of care.
What Is A Gynaecological Laparoscopy?
Gynaecological laparoscopy is a surgical procedure which allows medical staff to examine your abdomen, uterus, ovaries and fallopian tubes, without the need of performing open abdominal or vaginal surgery. Instead, a thin tube with a camera attached to the end (called a 'laparoscope') is inserted into your body via a small cut – often through the belly button. The camera will then immediately relay magnified images to a television screen. This will allow the surgeon to make a diagnosis (a diagnostic laparoscopy), and in some cases to perform treatment (an operative laparoscopy). For example, a gynaecological laparoscopy can be used for:-
Endometriosis;
Pelvic inflammatory disease;
Scar tissue;
Ectopic pregnancy;
Ovarian cysts;
Fibroids;
Hysterectomy;
Female sterilisation.
Risks of Gynaecological Laparoscopy
The first thing your treating surgeon must consider is whether you are in a high-risk group. This includes women who: are obese or significantly underweight, have previous midline abdominal incisions, peritonitis or inflammatory bowel disease. Should you be in one or more of these categories, you should be informed of the increase in risk before you sign a consent form, while extra care should be taken during the procedure itself.
Additionally, there is always the possibility with a gynaecological laparoscopy that one of the following complications will occur:-
Damage is sustained to your bowel, bladder, womb or major blood vessels;
Hernia;
Infection;
The need to suddenly switch from laparoscopy to open surgery during the operation.
Gynaecological Laparoscopic Injuries and Medical Negligence
Unfortunately, there are many cases in which the medical team carrying out a gynaecological laparoscopy fail to meet a reasonable standard of care, causing a patient to experience further complications. This will amount to a breach of duty of care, some of the most common examples of which include:-
Defective consent – eg. an operative laparoscopy is performed, but consent has only been obtained for a diagnostic laparoscopy;
Injury to bowel, bladder, womb, major blood vessels or rectum from poorly performed surgical technique;
Failure to detect internal haemorrhage;
Failure to diagnose;
Accidental sterilisation;
Retained swabs.
If you have experienced any of the above, or you believe the level of treatment you received did indeed fall below an acceptable level, contact a medical negligence solicitor for more information. It may be that there is a case of medical negligence, in which mistakes occurred in your laparoscopy that would not have been made a reasonable body of gynaecologists. If so, you may be able to claim compensation for the pain and suffering this has caused.
Can We Help You With A Medical Negligence Enquiry?
Please call us on 0800 234 3300 (or from a mobile 01275 334030) or complete our Online Enquiry Form.

Make An Enquiry
Why Choose Us
Specialist medical negligence solicitors
Free initial enquiries
No win, no fee available
Reviews
"Before we contacted you we had no real idea that we had grounds for a medical negligence claim but after speaking to you if became clear that Wendy was indeed treated poorly. Chris took the time to explain what was happening and kept us to speed. Our deepest gratitude to you all and Chris in particular."
Mr And Mrs H.
Helping Clients Across England & Wales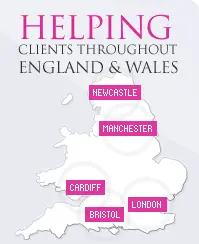 Free Medical Negligence Guide
'7 Questions You Must Ask Before Choosing A Medical Negligence Solicitor'