Doctor (GP) Negligence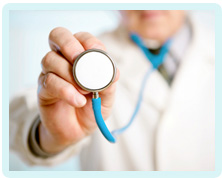 GP Appendicitis Medical Negligence Claims
If your GP has failed to recognise the signs and symptoms associated with appendicitis, meaning you have suffered life-threatening complications because of a delay in treatment, you could be entitled to compensation.
Diagnosing acute appendicitis in the early stages
Acute appendicitis typically has two phases. Firstly, there is a colicky pain arising from the appendix itself. Although the appendix is to be found on the right hand side of the abdomen, this pain is usually central. There may also be associated diarrhoea and vomiting. The first phase is usually fairly short-lived, and could easily mimic other conditions such as mild gastroenteritis.
The second phase occurs when inflammation spreads through the full thickness of the appendix wall, and begins to irritate and then involve neighbouring structures. The symptoms at this stage will depend upon where the appendix is, as it differs from person to person. In 65% of adults it lies behind the caecum (a pouch-like portion of the large intestine), while in 25% of adults it will descend into the pelvis and lie near the bladder.
In an ordinary case of acute appendicitis, central abdominal pain is followed by migration of the pain to the right lower abdomen, together with the development of pain on abdominal palpitation, along with mild fever. However, the classic picture is seen in less than half of all cases, largely because the localising symptoms and signs vary with the anatomical relations of the inflamed appendix. So while acute appendicitis can be very obvious, it can also present in very non-specific ways, and it is well recognised that a diagnosis can at times be very difficult to make.
What should a GP do when diagnosing appendix?
Because appendicitis is very hard to diagnose, GPs need to assess the presentation of patient who is complaining of acute abdominal pain. A full history should be taken from the patient regarding their symptoms, while a urine test and blood test should also be performed to rule out other illnesses such as a urinary tract infection. A GP should then examine the patient to establish whether the pain has settled on the ride hand side of the abdomen, where the appendix lies. A rectal examination may be performed to assess rectal tenderness, while a woman should also have a vaginal examination to ensure she is not suffering from an ectopic pregnancy.
If this assessment does not point to any other type of condition, a GP should consider the possibility of appendicitis. A GP should then look at the patient's history, amount of pain, observations of temperature and pulse, and physical signs to determine the appropriate course of action. Either it will be deemed safe to observe a patient over time, or a patient should be sent to hospital for closer observation and investigation. If there is any doubt whatsoever, the latter option should be chosen, as appendicitis can have fatal consequences if not treated in time.
What if a GP fails to recognise appendicitis?
If a GP fails to take the steps described above and a patient suffers a ruptured appendix, there could be a case of medical negligence. More specifically, a claim may arise because a GP failed to perform a face to face assessment, failed to arrange further tests, failed to monitor a patient or failed to refer a patient with the clinical features of acute appendicitis to hospital.
If this has happened to you or a loved one, you must contact a medical negligence solicitor at the earliest opportunity, as you could be entitled to compensation for the pain and suffering you have experienced.
Let Us Help You Now
Early legal intervention can be vital so please contact us if you think you may have a claim. All initial enquiries are completely free of charge and without obligation.
Please call us free on 0800 234 3300 (or from a mobile 01275 334030) or complete our Online Enquiry Form.

Make An Enquiry
Why Choose Us
Specialist medical negligence solicitors
Free initial enquiries
No win, no fee available
Reviews
"Before we contacted you we had no real idea that we had grounds for a medical negligence claim but after speaking to you if became clear that Wendy was indeed treated poorly. Chris took the time to explain what was happening and kept us to speed. Our deepest gratitude to you all and Chris in particular."
Mr And Mrs H.
Helping Clients Across England & Wales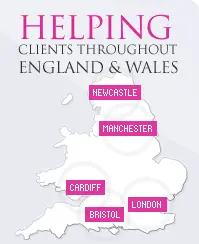 Free Medical Negligence Guide
'7 Questions You Must Ask Before Choosing A Medical Negligence Solicitor'