Pressure Sores / Ulcers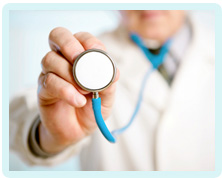 Prevention And Management Of Pressure Sores In Hospital
Pressure sores, also known as pressure ulcers or bedsores, occur as a direct result of unrelieved pressure and distortion to the body's tissues.
This is because when tissues are subject to pressure, the blood supply becomes obstructed, thereby restricting the provision of oxygen and impeding the removal of waste products. If this pressure is not relieved, the continued absence of oxygen will cause the tissue to breakdown. The build-up of waste products will compound the situation, and can lead to tissue necrosis, infection and sepsis (infection of the blood).
Pressure Sores in Hospital
Hospital patients are particularly prone to developing pressure sores, as being confined to a bed or chair for long periods will put pressure on certain area of the body. Bony prominences such as the sacrum, buttocks, hips, heels, ankles, elbows and back of the head are especially vulnerable. There are also a number of factors that can increase the chance of a pressure sore occurring. Amongst others, these include patients with: reduced mobility, obesity, diabetes, anaemia, fluid retention, fever, respiratory/cardiac disorders, poor diet/hydration and moisture on the skin.
However, it is important to note that while hospital patients are susceptible to developing pressure sores, the National Institute of Health and Clinical Excellence (NICE) consider pressure sores to be a 'never event'. This means they 'should not occur if preventative measures have been put in place'. Indeed, all healthcare staff should be aware of what causes pressures sores, what signs to look for and how they can be prevented. In turn this will lead to a high standard of care being provided, helping to ensure that a patient does not develop a pressure sore while in a healthcare environment.
Preventing Pressure Sores
The key to the prevention of pressure ulcers lies in the nurse's ability to assess and identify those patients at risk of developing pressures sores. This should begin during a pressure sore assessment, which should be carried out within six hours of a patient being admitted. This will give medical staff the opportunity to ascertain the risks posed to the patient, and whether or not preventative measures should be put in place – for example, a bariatric bed.
The prevention of pressure sores should then continue for the duration of the patient's stay. Nurses should perform a regular and thorough inspection in good light of all skin surfaces, which should be part of a patient's daily routine. If any signs of redness, discolouration or tissue damage are detected, nurses must provide treatment immediately – for example, regularly turning a patient or dressing the wound. This will help ensure the sore does not deteriorate any further.
Pressure Sores and Medical Negligence
While most pressure sores are preventable, it is an accepted fact that some patients may still develop pressure sores even when the highest level of care is given. However, we have unfortunately seen many cases in which a patient will suffer a pressure sore because the standard of healthcare has fallen below an acceptable level. This may occur if:-
A pressure sore assessment is not carried out;
An assessment is carried out, but the risks are not properly identified;
An at risk patient is not properly monitored;
The appropriate preventative measures are not put in place;
The appropriate treatment is not provided in the early stages of a pressure sore developing.
If medical care has indeed fallen to a substandard level, in turn causing a patient to suffer a pressure sore, there will be a case of medical negligence. This could lead to a successful medical negligence compensation claim.
Make A Free Enquiry About Hospital Acquired Pressure Ulcers
Early legal intervention can be vital so please contact us and let us advise you of your legal rights and your options.
Please call us free on 0800 234 3300 (or from a mobile 01275 334030) or complete our Online Enquiry Form.

Make An Enquiry
Why Choose Us
Specialist medical negligence solicitors
Free initial enquiries
No win, no fee available
Reviews
"Before we contacted you we had no real idea that we had grounds for a medical negligence claim but after speaking to you if became clear that Wendy was indeed treated poorly. Chris took the time to explain what was happening and kept us to speed. Our deepest gratitude to you all and Chris in particular."
Mr And Mrs H.
Helping Clients Across England & Wales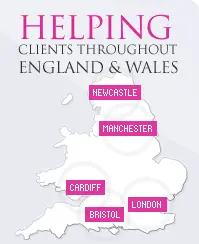 Free Medical Negligence Guide
'7 Questions You Must Ask Before Choosing A Medical Negligence Solicitor'