Third Degree Tearing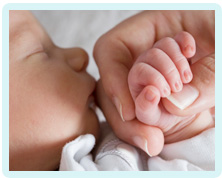 Third Degree Tears
If you have suffered a third degree tear injury during child birth a time of happiness is often tainted with the pain you are experiencing. In addition to this you may have many questions running through your mind, such as why did you experience a third degree tear, could it have been prevented, and what, if any, action can you take? This article explores all of these questions to try and provide you with some helpful answers to help you to better understand your injury.
The easiest way to discover all of the answers to these questions is to make a free, no obligation enquiry and speak with one of our specialist medical negligence solicitors. Simply call us free on 0800 234 3300 (or from a mobile 01275 334030) or complete a Quick Enquiry online now. Wherever you are in England or Wales, we can help you.
What Is A Third Degree Tear?
A vaginal tear can occur quite naturally during child birth. It can be caused by the size of the baby and if only a first or second degree tear occurs, there are normally no long term complications for the mother. However, third or fourth degree tears can cause significant problems.
A third degree tear involves the vaginal tissue, perineal skin, and perineal muscles that extend into the anal sphincter although the rectal mucosa remains intact.
Not only can this amount to significant pain but it can also lead to other complications, including pain during sexual intercourse and pain or discomfort on visiting the toilet. If you are experiencing these problems then you should ask your G.P. for a referral to a specialist.
How Does A Third Degree Tear Occur?
If it is clear that your baby is too large to be born without potentially causing a tear your medical team should consider carrying out an episiotomy, ie a surgically performed cut to reduce the risk of a tear. If they do not take this action and you tear 'naturally' there is uncertainty both in terms of the size of the tear, but also in terms of how deep the tear will be. If you do sustain a third degree tear this can cause serious pain and discomfort.
What Treatment Is Available For A Third Degree Tear?
There are various treatments available to help you with the pain experienced from a third degree tear, including:
Proper repair by a surgeon (not a midwife) in a well lit theatre
Antibiotics (to reduce the chances of infection as the stitches to repair the tear are likely to be very close to the anus)
Pain relief
Pelvic floor exercises
Laxatives (to make it more comfortable when you open your bowels)
A review after six weeks
In addition you will need to keep the area around the tear clean. Whilst you are in extreme discomfort you are likely to be on a drip for fluids and a catheter will be used until you are fit to walk to the toilet.
You should still be able to breastfeed during this period.
What Is The Likely Outcome?
As long as the tear is identified at the time you give birth and is stitched correctly by a doctor people will make a full recovery, although it can take weeks or even months for this to happen.
What Other Action Can You Take Following A Third Degree Tear?
If there was clear evidence that you were highly likely to suffer a vaginal tear (e.g. a very large baby) but no action was taken to prevent it you may be entitled to claim compensation for medical negligence. We can offer you a free appraisal, not only looking at the negligence issues but also any other treatment that might be beneficial for you.
Is There Anything Else You Can Do?
If your medical team had clear evidence that you were highly likely to tear (for the reasons above) but failed to take action to prevent the tear, you may be entitled to make a claim for compensation for medical negligence. This is also the case if the tear is not recognised at the time of birth. To assess whether this is possible, we can offer you a free initial appraisal of your treatment, not only investigating the circumstances of the tear but also considering any other treatment that might be available for you.
Costs Of A Claim
If we can help you to make a claim for compensation following a childbirth tear, you will benefit from the following funding options:
Conditional Fees ("no win, no fee")
Legal Expenses Insurance
Private Funding
Structured Payment Plans
If you would like to benefit from a service of excellence with total commitment to client care from a small and friendly team, Glynns are ready and waiting to help you.
Please call us on 0800 234 3300 (or from a mobile 01275 334030) or complete our Online Enquiry Form.

---
Make An Enquiry
Why Choose Us
Specialist medical negligence solicitors
Free initial enquiries
No win, no fee available
Reviews
"Before we contacted you we had no real idea that we had grounds for a medical negligence claim but after speaking to you if became clear that Wendy was indeed treated poorly. Chris took the time to explain what was happening and kept us to speed. Our deepest gratitude to you all and Chris in particular."
Mr And Mrs H
Helping Clients Across England & Wales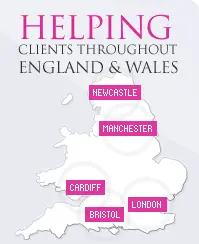 Free Birth Injury Guide