Cancer Misdiagnosis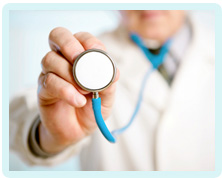 GP Fails to Diagnose Rectal Cancer
Alex suffered chronic diarrhoea for a period of two years but was repeatedly told by his GP that it was caused by stress. Growing increasingly concerned, Alex finally decided to seek the opinion of a private doctor, who quickly diagnosed rectal cancer. Sadly by this stage the cancer was advanced and little could be done to save him.
When Alex visited his GP complaining of diarrhoea, there was no blood in his stools, but the diarrhoea had been occurring six times a day for the past month. His doctor suggested it could be one of three things: irritable bowel syndrome, stress or a side-effect of anxiety medication. A 'wait and see' approach was adopted, and so Alex returned to work.
But over the next six months Alex's symptoms deteriorated. He was forced to take time off work, was unable to engage in social activities and became more and more worried about the possible cause. He returned to the GP in December the same year and stool samples were taken. However, a rectal examination was not performed, and still no diagnosis was made.
Alex attended his GP surgery six times over the following year, still complaining of the same symptoms. He was told he may have a tropical bug and so was prescribed antibiotics. It was then suggested that his anxiety medication should be altered. But his condition got progressively worse, and Alex was experiencing twelve episodes of diarrhoea a day, which now contained traces of blood. Twice he asked whether or not it could be cancer. But on each occasion the idea was swiftly dismissed by the GP, who instead diagnosed Alex with stress.
By now Alex had been suffering from chronic diarrhoea for 18 months. He was extremely worried and felt that his GP was failing to make a correct diagnosis. Consequently he demanded to be referred to a private gastro-enterologist. The specialist stated he was concerned about Alex's health and immediately rejected the GP's opinion of irritable bowel syndrome. A rectal examination was then performed - the first one Alex had had throughout his illness. He began to bleed, prompting the doctor to carry out a flexible sigmoidoscopy. This quickly revealed Alex had cancer of the rectum.
After being referred to a colorectal surgeon, Alex was told the tumour could not be operated on. An MRI scan showed that the cancer had spread to his liver and lungs. He was given palliative care in the form of chemotherapy. However, this made him unwell and he decided to stop treatment, wishing instead to enjoy what little time he had left with his family until he sadly passed away.
Before his death, Alex had contacted Glynns to discuss the treatment provided by his GP. We advised that he could take legal action, as his GP had repeatedly failed to diagnose his condition. This had caused him an additional 18 months pain and suffering. He decided to pursue a medical negligence claim which his widow continued to handle after his death. We eventually settled the case, and Alex's wife was awarded in excess of £80,000 compensation.
(Details which might identify our client have been changed.)
Let Us Advise You Now
Early legal intervention can be vital so please contact us if you think you may have a claim. All initial enquiries are completely free of charge and without obligation.
Please call us free on 0800 234 3300 (or from a mobile 01275 334030) or complete our Online Enquiry Form.

Make An Enquiry
Why Choose Us
Specialist medical negligence solicitors
Free initial enquiries
No win, no fee available
Reviews
"Before we contacted you we had no real idea that we had grounds for a medical negligence claim but after speaking to you if became clear that Wendy was indeed treated poorly. Chris took the time to explain what was happening and kept us to speed. Our deepest gratitude to you all and Chris in particular."
Mr And Mrs H.
Helping Clients Across England & Wales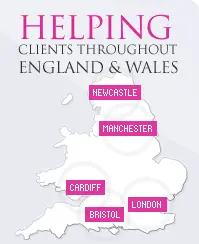 Free Medical Negligence Guide
'7 Questions You Must Ask Before Choosing A Medical Negligence Solicitor'