Fracture Medical Negligence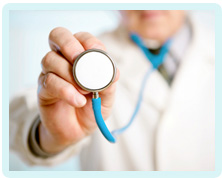 What Happens To Untreated Fractures?
If you think you have suffered a fracture but a hospital refuses to X-Ray you or have failed to correctly identify a fracture, what could the consequences be for you? Unfortunately we have too much experience of this happening in hospitals across England and Wales and this section deals with the common types of untreated fractures and the consequences of them.
How Can You Be Left With An Untreated Fracture?
The first point to consider is how can you find yourself left with an untreated fracture? If you attend an Accident and Emergency Department probably the last thought on your mind is that you will walk in and out of there with an untreated fracture.
There are two main ways that you can be left with an untreated facture; when the fracture is diagnosed and deliberately left untreated, or when it is simply not identified. We will look at each in turn.
Fractures Deliberately Left Untreated
Some fractures to small bones in the body do not need or warrant treatment. This can be fractures to your toes or parts of your hand where no surgery could improve the fracture and it can be left to recover without any medical intervention.
However, on occasions a hospital may decide not to treat a diagnosed fracture when treatment would have been the best option for you. If this is the case and you suffer complications or permanent problems as a result of the lack of treatment, you may be able to make a medical negligence claim for compensation.
If you believe this has happened to you please call us on 0800 234 3300 (or from a mobile 01275 334030) or complete our online enquiry form now.
Factures Left Untreated By Mistake
The second type of fractures left untreated can lead to more serious long term complications. If a hospital refuses to X-Ray a patient complaining of pain, or X-Rays a patient but fails to notice the fracture on examining the X-Ray there can be problems.
Unfortunately we have seen this in the most severe of cases, when a neck fracture was not diagnosed for many days due to the hospital refusing to carry out an X-Ray, and when forced to do so by a General Practitioner, failing to spot the neck X-Ray. Fortunately on this occasion our client had no complications, but this could have caused paralysis from the neck down if our client had experienced any sudden impact.
Potential Problems With Untreated Fractures
The problems that can be experienced as a result of an untreated fracture can include:
The fractured bones can fuse incorrectly causing longterm problems in terms of range of movement and pain
If the bone has broken through the skin and is not treated it could lead to infections, even in the most severe cases leading to amputation
In the case of a fractured neck, failure to diagnose and treat the fracture could lead to paralysis or even death
An untreated hip fracture can cause blood clots, sores or pneumonia, particularly amongst the elderly
What Action Can You Take?
If you believe that you have suffered as a result of an untreated fracture you may be able to make a claim for compensation against the hospital in question. We can provide you with a free initial assessment to advise you of your options.
We act for clients throughout England and Wales, if we cannot help you we will make no charge for our time. If we can help you to make a claim for compensation, you will benefit from the following funding options:
Conditional Fees ("no win, no fee")
Legal Expenses Insurance
Private Funding
Structured Payment Plans
Early legal assistance can be vital so please contact us if you would like to discuss your situation. Please call us free on 0800 234 3300 (or from a mobile 01275 334030) or complete our Online Enquiry Form.

Make An Enquiry
Why Choose Us
Specialist medical negligence solicitors
Free initial enquiries
No win, no fee available
Reviews
"Before we contacted you we had no real idea that we had grounds for a medical negligence claim but after speaking to you if became clear that Wendy was indeed treated poorly. Chris took the time to explain what was happening and kept us to speed. Our deepest gratitude to you all and Chris in particular."
Mr And Mrs H.
Helping Clients Across England & Wales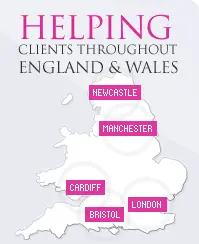 Free Medical Negligence Guide
'7 Questions You Must Ask Before Choosing A Medical Negligence Solicitor'