Ruptured Bowels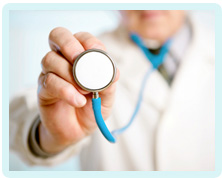 Ruptured Bowel
(misdiagnosis and during surgery)
If you have recently left hospital following surgery and you had to have a second operation to repair a ruptured bowel during surgery, or if you have suffered a bowel rupture that was not diagnosed for sometime leading to significant pain, what are your legal options?
This section deals with the causes of a ruptured bowel, the consequences, and also what action you can take, if any, to make a claim for compensation.
What Is A Ruptured Bowel?
A ruptured or perforated bowel is a hole in the stomach, small intestine or large intestine. This can be caused by mistake during surgery to any of the organs around the bowels with a surgeon accidentally puncturing the bowel. The problem occurs if the surgeon fails to notice that he has created a hole and closes up the patient without repairing it.
Causes of A Ruptured Bowel
The most common causes of a bowel rupture is a penatration injury, such as during surgery or through a knife wound. However, crushing injuries which can occur during car accidents or other accidents can also cause a bowel to rupture.
Diagnosis
Normally the ruptured bowel is diagnosed by an X-Ray or a CT scan which shows the air that has escaped into the peritoneal cavity.
Symptoms Of A Ruptured Bowel
Symptoms of a ruptured or perforated bowel can include a high temperature, sickness and extreme pain. The rupture most commonly happens to the small intestine, followed by the stomach being the next most common area to rupture and then the large intestine.
All of this is caused because when the bowel is ruptured it allows food or faeces to leak from the bowel into the abdomen or for air to seep into the abdominal cavity. This can lead to severe inflammation and infection of the abdomen which rapidly can spread and become serious or even fatal if not diagnosed and treated. A ruptured bowel needs to be detected early to ensure that the repair can be made by the surgeon as soon as possible.
Surgery For A Ruptured Bowel
Surgery is required as soon as the rupture is detected to repair the rupture and to clean the abdomen to remove any leaked faeces or food.
After surgery the patient will be provided with high levels of antibiotics to fight infections.
Does The Rupture Amount To Medical Negligence?
There are two main occasions when you may be able to make a claim for medical negligence compenstion following a ruptured bowel. These are:
Misdiagnosis or
Surgery causing the rupture
We will look at each of these in turn.
Misdiagnosis
If you are admitted to hospital, for example following a car accident, and are complaining of abdominal pain, have a fever and are showing the other signs of a bowel rupture, you should be referred for an X-Ray or CT Scan. If the surgeon does not take this action for some time or at all, leading to severe pain and longterm suffering, you may be able to make a claim for compensation as a result of the surgeon's misdiagnosis.
Surgery
If the bowel is ruptured during surgery by the surgeon but he does not notice at the time, once again this may lead to a claim for compensation for medical negligence.
What Can You Do?
If you are experiencing any of the symptoms above following a crushing injury or recent surgery you should immediately consult an Accident and Emergency unit or call your Doctor.
If you have been through this experience and would like some advice, please see below and we will provide you with a free initial case assessment.
Free Ruptured Bowel Medical Negligence Claim Assessment
If you would like to benefit from a service of excellence with total commitment to client care from a friendly team, please let us help you, as we have done so for many other people who have suffered a ruptured bowel.
The sooner we can provide you with specialist legal advice, the better your chances of success. Please call us free on 0800 234 3300 (or from a mobile 01275 334030) or complete our Online Enquiry Form.

Make An Enquiry
Why Choose Us
Specialist medical negligence solicitors
Free initial enquiries
No win, no fee available
Reviews
"Before we contacted you we had no real idea that we had grounds for a medical negligence claim but after speaking to you if became clear that Wendy was indeed treated poorly. Chris took the time to explain what was happening and kept us to speed. Our deepest gratitude to you all and Chris in particular."
Mr And Mrs H.
Helping Clients Across England & Wales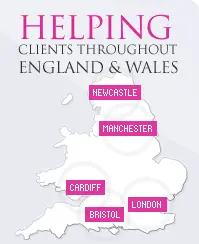 Free Medical Negligence Guide
'7 Questions You Must Ask Before Choosing A Medical Negligence Solicitor'