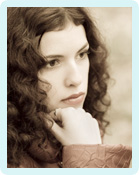 A Patient's Story
Fourth Degree Childbirth Tear
This patient suffered a fourth degree tear during the birth of her first child, which is an injury that extends from the vagina, through the perineum and into the anal sphincter complex. The repair was of a poor standard, causing her to develop a recto-vaginal fistula (a gap between the vagina and rectum) and ongoing faecal incontinence. She describes her story in her own words.
"When I gave birth to my first child and I didn't really know what to expect, I put all my trust into the medical practitioners caring for me, but they treated me really badly.
The pregnancy was fine but then I went into labour and kept being sent home. I was in labour for 98 hours and it was a hellish four days. I was eventually admitted and my contractions were so strong they were off the scale. Despite this, the nurse tried to send me home again. I refused as I was in absolute agony. I was not given any pain relief. It later transpired that the baby was stuck because he was back to back. However, a scan was not carried out because the machine was broken.
Finally I was whisked down to theatre and told, very abruptly, that they were going to use forceps. I was told to give 'the biggest push of my life', even though they hadn't performed an episiotomy. As a result I sustained a huge tear. The doctor informed me, again very abruptly, that I had a fourth degree tear. He also said I might be paralysed after the epidural had worn off and that I'd never have a natural birth again.
Lost faith in the medical profession
Without any further explanation he started to repair the tear. By this point sensation had returned so I could feel the stitching. I kept telling him, but the doctor was impatient and made me feel like a nuisance.
When I got home from hospital I started passing faeces through my vagina. I knew something wasn't right but I had lost faith in the medical profession so didn't want to tell the community midwife. Within days, faeces started leaking out of me constantly, causing my stitches to burn. It was incredibly painful and I started to sleep in the shower so I could keep washing myself. I thought I was going mad and didn't want to talk to anyone about it.
Eleven days after the birth, my husband encouraged me to seek help. I ended up being sent back to the same labour ward. I saw a horrible doctor who laughed when I said faeces was coming out my vagina. He said that type of thing only happened in third world countries. He took a swab of my vagina and took it to the midwife. He returned and said they had all smelled it and it wasn't faeces. When I asked for an explanation, he said that "gravity was to blame."
Traumatised by my care
I was so traumatised by my care so far that I didn't seek further medical advice until my six-week check-up. The doctor took one look and said he could see a huge fistula, meaning there was a gap between my rectum and vagina. This was the cause of my problems.
After further investigation, it became apparent that my fourth degree tear had been poorly repaired. The injury was 6cm in length, and there was a 2cm gap that had not been sutured. This led to a fistula. I was later advised that the birth had been negligently managed, and the prolonged labour and rapid delivery contributed towards the extent of the tear.
It took another 18 months for my treatment to be complete. This included a temporary colostomy and surgery. During this time I slept in our bathroom every night, leaving my husband to do everything.
Every day is a nightmare
Now the fistula is much better, but my sphincter muscles are almost non-existent. Every day is a nightmare – I have no control and have to plan when to leave the house. I still manage to work two days a week, which is made possible by the very supportive team around me.
I contacted Glynns the day I found out I had a fistula. Everyone kept saying it should not have happened and I was very angry. I just wanted someone to say it was their fault. Initially it was this anger that prompted me to make a claim, I was in such a traumatised state. But as time went on, making a claim became more about justice. My life has been so badly affected. I missed out on the chance to bond with my baby, I'm not able to have the career I had hoped for, and I can't have any more children as the repair would not hold up. It has also affected my personal relationships as I've become isolated from my friends.
Making a claim has helped me massively. Throughout the process I spoke to Chris almost every week. During this time I felt like I had back-up and support. It meant so much that the hospital admitted they were wrong, without it I would have been left to feel simply horrible."
Make A Free Medical Negligence Enquiry
Please call us now on 0800 234 3300 (or from a mobile 01275 334030) or complete our Online Enquiry Form.
---