Medical Negligence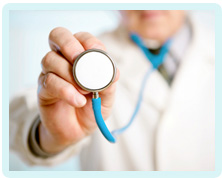 Necrotising Myositis
If you or your loved one has suffered because of a delayed diagnosis of necrotising myositis, you could be entitled to pursue a claim for compensation. Contact a medical negligence solicitor today for more information.
What is necrotising myositis?
Necrotising myositis is a rare bacterial infection of the body's soft tissue. It is usually caused the streptococcus pyogenes bacteria, and is closely related to another rare bacterial infection called necrotising fasciitis.
Necrotising myositis will lead to symptoms such as fever, and severe pain and swelling at the site of infection. Small blisters called bullae may also appear on the skin. These will be filled with a pale yellow fluid.
The infection will spread very quickly, so emergency treatment to control the infection is paramount. This must include antibiotics, debridement of the infected tissue and other supportive measures. Some patients will require an amputation to prevent further harm.
Diagnosing necrotising myositis
Necrotising myositis is difficult to diagnose because it mimics a number of other conditions. However, it should be possible for medical practitioners to make an accurate diagnosis in a timely fashion.
Firstly, medical professionals should realise that a patient's symptoms are consistent with a severe infection. If a patient is already critical, an emergency examination in theatre is mandatory. If a theatre is not available or a patient is not yet critical, the tissue should be examined under local anaesthetic. This involves cutting the skin at the site of infection to look for 'dishwater' coloured fluid and abnormal blood flow.
The presence of an infection can also be verified with simple tests such as a blood test and a blood pressure test. Other tests can help to rule out other conditions – for example, an MRI scan can exclude the diagnosis of a blood clot.
Delayed diagnosis of necrotising myositis
A patient with necrotising myositis will become critically unwell within a matter of hours. Experts generally suggest that surgery to remove the necrotic tissue must be carried out within 24 hours of the onset of symptoms, or fatal complications could arise.
Unfortunately, however, there are often delays in diagnosing necrotising myositis. Sometimes this is not the fault of medical practitioners. Indeed, a patient may delay in seeking medical attention, or a patient's symptoms may not be specific, making a diagnosis extremely difficult.
Nevertheless, there occasions when there is a negligent delay in getting a patient to theatre. If this leads to complications that could otherwise have been prevented, there may be grounds for a medical negligence claim.
To find out more about claiming compensation for necrotising myositis, please get in touch with us today.
Can We Help You With A Medical Negligence Enquiry?
Early legal assistance can be vital so please contact us if you would like to discuss your situation. Please call us free on 0800 234 3300 or complete our Online Enquiry Form.

---