Medical Negligence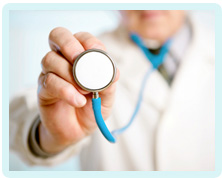 Necrotising Fasciitis Causes
Necrotising fasciitis is a rare condition caused by a certain type of bacteria. It is vital it is treated without delay, or the consequences could be devastating.
Causes of necrotising fasciitis
Necrotising fasciitis is caused by the group A Streptococcus bacteria. This is the same type of bacteria that causes a sore throat. Other types of bacteria have been known to cause necrotising fasciitis, but group A Strep is the most common cause.
However, just because this bacterium enters the body is not to say that necrotising fasciitis will develop. Rather, it occurs when the bacteria infect the fascia, which is the layer of connective tissue deep below the skin.
When the fascia becomes infected it is very dangerous. This is because the bacteria will begin to multiply, releasing a poisonous toxin as they do so. This attacks the fascia and surrounding soft tissue, causing it to break down. Eventually the tissue will die, or in medical terms, become 'necrotic'.
Necrotising fasciitis and medical negligence
Necrotising fasciitis is a rare condition, and yet it leads to a disproportionately high number of medico-legal claims. This is because doctors often fail to diagnose and treat the condition in the early stages, resulting in devastating complications for the patient.
Indeed, if the bacteria are not removed from the body, they will continue to reproduce. The area of infection will grow, meaning a patient will soon have an extensive area of necrotic tissue. All this tissue will have to be debrided (surgically removed), leaving a patient with a large deformity. This will also make the individual in question extremely unwell, and can even result in fatal complications.
However, this should not be allowed to happen, as medical practitioners should be able to detect the condition before the infection becomes too serious. Necrotising fasciitis has the classic symptoms of a bacterial infection, including skin that is red and hot to touch, fever and pain at the site of infection.
These symptoms should provoke doctors to carry out further tests to clarify what bacterium is causing the infection. A swab should be taken and sent to a microbiologist, who will then be able to confirm the presence of necrotising fasciitis.
Claiming compensation
If doctors fail to take timely action and do not diagnose and treat necrotising fasciitis in a prompt fashion, the level of care will have fallen to a substandard level. A patient who has suffered unnecessary complications because of this delay will be entitled to claim compensation for the pain and suffering that has been caused.
To find out more about claiming compensation for necrotising fasciitis, get in touch with a solicitor today.
Can We Help You With A Medical Negligence Enquiry?
Early legal assistance can be vital so please contact us if you would like to discuss your situation. Please call us free on 0800 234 3300 (or from a mobile 01275 334030) or complete our Online Enquiry Form.

---