Medical Negligence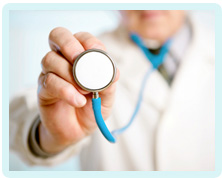 Necrotising Fasciitis After Abdominal Surgery
Necrotising fasciitis is also known as Meleney's synergistic gangrene. It is a soft-tissue infection associated with abdominal surgery, particularly in patients with diabetes.
Necrotising fasciitis usually involves the soft tissues only, rather than the muscles. The condition has a very short incubation period, meaning the infection has an acute onset with the skin suddenly becoming red and hot to touch. This will soon develop into skin that is necrotic, meaning the blood supply has been restricted and the tissue has actually died.
When the tissue becomes necrotic it cannot be saved and must be surgically removed. This can, therefore, create significant problems for the patient. He or she will become extremely unwell as a result of the infection and will be left with an unsightly defect.
Prophylactic antibiotics before abdominal surgery
Due to the potentially devastating nature of necrotising fasciitis, medical professionals should do all they can to prevent the infection occurring. It is a rare but known complication of abdominal surgery, especially gallbladder surgery, C-sections, hysterectomies and appendectomies. There are also certain factors that increase the chance of necrotising fasciitis developing, including obesity, type II diabetes and smoking.
If a patient is undergoing abdominal surgery and has these risk factors, medical professionals should administer a precautionary dose of antibiotics before the operation. This is known as giving prophylactic antibiotics, with 'prophylactic' meaning preventative. A single dose should be used at the induction of anaesthesia.
Although prophylactic antibiotics will not abolish the risk of infection, it will reduce the number of bacteria present in the abdominal area and thus minimise the chances of infection arising.
Does necrotising fasciitis amount to medical negligence?
If medical professionals fail to administer prophylactic antibiotics to patients who are at risk of necrotising fasciitis and the infection subsequently develops, there could be a case of medical negligence. This is because the doctors and nurses should have recognised that a patient was in danger of suffering a post-operative infection and taken steps to prevent it from happening. A failure to do so will amount to a breach of duty.
Claiming for necrotising fasciitis
If you have developed necrotising fasciitis after abdominal surgery and doctors failed to give you prophylactic antibiotics, you could be entitled to claim compensation for the pain and suffering this has caused you. To find out more, you need to speak to a solicitor who specialises in medical negligence claims.
Can We Help You With A Medical Negligence Enquiry?
Early legal assistance can be vital so please contact us if you would like to discuss your situation. Please call us free on 0800 234 3300 (or from a mobile 01275 334030) or complete our Online Enquiry Form.

---