Medical Negligence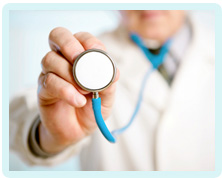 Medical Negligence Solicitor Bath
To make a claim against a doctor, nurse, dentist, hospital or other medical organisation, you need the help of a medical negligence solicitor.
If you live in England or Wales and are looking for a medical negligence solicitor, please get in touch with us at Glynns Solicitors.
We are a specialist clinical negligence law firm, meaning will deal primarily with medical negligence claims. Our lawyers are experts in their field and have extensive experience.
Our office is based between Bristol and Bath, but we can assist people across the country.
We offer a range of funding options which we will discuss with you in detail. Mostly we run our claims on a 'no win no fee' basis, which offers excellent financial protection. Most notably, you do not pay anything if your claim is unsuccessful.
To speak with one of our legal experts, please get in touch with us for free initial enquiry. Or if you would like more information first, please read the rest of this article which answers some frequently asked questions.
What is a medical negligence claim?
A medical negligence claim is a form of civil litigation (as opposed to criminal). It provides the victim of substandard medical care the opportunity to access justice.
However it is important to remember that no one will go to prison unless criminal proceedings are pursued. Instead, the victim is awarded a compensation settlement, which is intended to reflect the physical, emotional and financial damage incurred.
Medical negligence is also called 'clinical negligence' in the UK. In America it is called 'medical malpractice'.
Can I make a medical negligence claim?
To make a medical negligence claim, you have to be able to prove two things.
Firstly, you need to prove that a medical practitioner(s)/organisation has breached their duty of care towards you. All doctors, nurses, midwives and dentists have a legal duty to provide their patients with an acceptable standard of care. 'Acceptable' means that a reasonable body of medical men would take the same course of action. If a medical practitioner fails to meet this standard, there has been a breach of duty.
Secondly, you need to prove that there is a causative link between the breach of duty and your injuries. In other words, the substandard level of care must have caused you to suffer wrongful injury, which could otherwise have been avoided with better medical care. For example, were it not for a delay in the diagnosis of cancer, a tumour would not have spread and the patient would have needed less invasive treatment.
Medical negligence law is a complex subject and we do not expect you to know whether you can prove breach of duty and causation. We can listen to the details of your claim and advise you of this. Therefore to find out if you can make a claim for medical negligence, you just need to speak to a solicitor.
Do I need a solicitor for a medical negligence claim?
It is possible to make a medical negligence claim on your own. This is called being a 'litigant in person'. Nevertheless it is not very common for people to do this as it is very difficult. Most litigants in person will lose their claim or under-settle their claim (meaning they should have received more compensation).
Ideally you need a medical negligence solicitor to run your claim for you. This will give your claim the best chance of success, and it will also make the process much easier for you.
How much does a medical negligence solicitor cost?
Instructing a lawyer is often considered very expensive and many will be worried about the cost of using a medical negligence solicitor.
However this should not be a concern as there are different funding options available which enable people from all socio-economic backgrounds to make a claim. As mentioned above, the most popular is a 'no win no fee claim'.
No win no fee claims work on the basis that your solicitor will not be paid if you lose your claim. An insurance policy, taken out by your solicitor at the start of the claim, will cover any other costs you have incurred. If you win your claim, your solicitor can recover a success fee. Normally this will be taken out of the compensation settlement.
Thus it is possible that you will not receive your compensation settlement in full. However, your solicitor can only recover 25% of your general damages and past losses, so a considerable amount of your compensation is protected.
How much compensation will I get?
Unfortunately we cannot predict how much compensation you will get. Compensation settlements vary according to the amount of damage the victim has sustained – both in terms of physical/emotional injuries and financial injuries.
How long does a medical negligence claim take?
On average a medical negligence claim takes around three years to complete. Sometimes it will be less, sometimes it will be more (particularly in cerebral palsy cases).
Three years sounds like a very long time, but even just obtaining all of your medical records can take several months, and getting a medical expert to write a report can take around six months. This means there will be quiet periods when your solicitor is waiting for documents or appointments.
Will I have to do anything?
If you use a medical negligence solicitor, he/she will run the claim on your behalf. Even so, you will be needed to assist on occasion – for instance, by providing a witness statement. In some cases you will need to attend medical appointments, after which a medical expert will write a report on your case.
What happens during an initial enquiry?
To start the process, you need to contact us for a free initial enquiry. During this telephone call, we will put you through to a solicitor or legal executive. He/she will ask you about the care you received and the injuries you have been left with. You can also ask any questions that you might have, such as the costs involved.
After this consultation, we will consider your case and say whether we would like to take your claim on. However you do not have to proceed if you do not want to.
Contact medical negligence solicitor Bath
To talk to a legal expert about making a medical negligence claim, get in touch with us at Glynns Solicitors.
Please call us free on 0800 234 3300 (or from a mobile 01275 334030) or complete our Online Enquiry Form.

---