Medical Negligence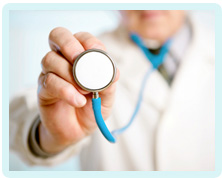 Hospital Infection Solicitor
To talk to a solicitor about claiming for a hospital acquired infection, please get in touch with us at Glynns Solicitors. We specialise in medical negligence claims and will be able to provide you with expert legal advice.
Hospital infection claim
A hospital acquired infection is when a patient who is staying in hospital catches an infection during their stay. Common examples of hospital acquired infections include MRSA, C. Difficile, E. Coli and the norovirus.
Hospital acquired infections are so prevalent because hospital environments have a large number of surfaces and people, giving the bacteria increased opportunities to spread. Most patients are also susceptible to infection because of ill health, meaning they are unable to fight off the infection.
Is a hospital infection negligent?
Hospital infections can be difficult to control. Nevertheless, there are strict guidelines in hospitals to ensure that infections are limited. This includes high standard of hygiene, regular hand washing and sterilising equipment. With these measures in place, it is possible to limit the spread of infection.
So does a hospital acquired infection amount to medical negligence?
It is a hard question to answer as it depends upon the circumstances of the infection. Some – such as the norovirus – will spread very quickly and there is little that can be done to stop it. Often hospital wards have to close down just to stop the infection spiralling out of control.
However, in other cases the hospital acquired infection will be the fault of poor hospital hygiene or substandard medical care. If so there may be grounds for a claim. A solicitor will be able to tell you more.
Failure to diagnose hospital infection
There is more likely to be grounds for a medical negligence claim if medical professionals fail to diagnose a hospital acquired infection, leaving a patient to suffer serious complications.
One example of this is a bacterial infection called necrotising fasciitis. It can get into a wound no matter how small and infect the body's deep tissues, causing it to break down and die. These types of infections are often overlooked, despite a patient displaying the characteristic symptoms of a tissue infection. This will be devastating for the patient whose survival is dependent upon early treatment.
Hospital infection solicitor
If you would like to know more about claiming compensation for a hospital acquired infection, contact us today. We will advise you of your legal position, helping you understand whether you have grounds to make a claim.
Can We Help You With A Medical Negligence Enquiry?
Early legal assistance can be vital so please contact us if you would like to discuss your situation. Please call us free on 0800 234 3300 (or from a mobile 01275 334030) or complete our Online Enquiry Form.

---