Medical Negligence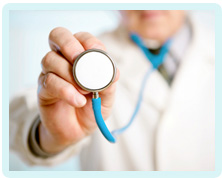 Failure to Diagnose Osteomyelitis
If osteomyelitis is not diagnosed and treated quickly enough, it can result in deformity, amputation and permanent neurological dysfunction.
If you or your family member has suffered long-term injury because doctors failed to provide a reasonable standard of care for osteomyelitis, there could be grounds for a claim. For more information, please contact us at Glynns Solicitors.
What is osteomyelitis?
Osteomyelitis is the medical term for a bone infection. Acute osteomyelitis is when a bone infection occurs as a one-off event after an injury or illness. Chronic osteomyelitis is when a bone infection repeatedly recurs.
Osteomyelitis is normally a bacterial infection caused by the Staphylococcus Aureus bacteria. However, it can occur as a result of Tuberculosis or a fungal infection.
How does osteomyelitis happen?
Osteomyelitis happens when the bone becomes infected. This can occur in one of two ways:
Following an injury – if someone sustains a fracture and the bone is exposed, bacteria can reach the bone, causing an infection. Other injuries, such as surgery and insect bites, can also result in a bone infection.
Through the blood – if an infection occurs elsewhere in the body, the infection can travel in the blood and reach the bone. This can happen with internal infections and skin infections, such as infected foot ulcers.
When a patient develops osteomyelitis following an injury, he/she is said to have contiguous osteomyelitis. When a patient develops osteomyelitis via the bloodstream, he/she is said to have haematogenous osteomyelitis.
Who gets osteomyelitis?
Anyone can get osteomyelitis – the bacteria simply need to reach the bone. Consequently the condition is more likely to affect people who have sustained some form of injury, particularly a fracture in which the bone has been exposed.
There are also some factors that increase the risk of osteomyelitis:
Conditions that weaken the immune system – e.g. HIV and rheumatoid arthritis
Conditions that adversely affect the circulation of blood – e.g. diabetes
Intravenous drug users
Medication that causes immune deficiency – e.g. steroids
Sickle cell anaemia
What are the symptoms of osteomyelitis?
The characteristic symptoms of osteomyelitis are fever and bone pain. There may be other symptoms, such a swelling and redness at the site of infection, restricted movement and swollen lymph nodes.
How to diagnose osteomyelitis?
Osteomyelitis should be considered in anyone with an unexplained fever, especially if it is accompanied by bone pain. Furthermore, if a patient has a recent history of trauma (e.g. a fracture or surgery), diabetes or is immune-compromised, there is strong reason to suspect osteomyelitis.
A blood test will verify whether or not a patient has an infection. The results will reveal a high white blood cell count and a raised C reactive protein. If the blood test indicates an infection, and a patient has symptoms consistent with osteomyelitis, a diagnosis can be made.
Osteomyelitis can be confirmed with imaging tests such as an x-ray or MRI scan. Nevertheless, evidence of bone damage may not be visible until several weeks of infection. Therefore doctors should not necessarily rely upon imaging tests that do not show bone damage, as it may be that the damage cannot yet be seen.
How to treat osteomyelitis?
If osteomyelitis is caused by a bacterial infection, the condition will be treated with intravenous antibiotics. If a patient responds well to the intravenous antibiotics, he/she may be discharged home with antibiotic tablets. In total antibiotics will usually be needed for around six to eight weeks. While in hospital the infected area should be immobilised to prevent permanent disability.
Surgery may be required if the patient's symptoms do not resolve, or the infection becomes increasingly severe.
It is important that the treatment successfully cures the infection or the condition will recur, resulting in chronic osteomyelitis. To ensure treatment is effective, a biopsy must be taken to establish the bacteria causing the infection. This will enable more targeted antibiotic treatment. Additionally treatment should be continued until the infection is cured.
What happens if osteomyelitis is not treated?
Osteomyelitis can quickly cause serious bone damage. If treatment is not given soon enough, or the course of treatment is insufficient, the bone damage can be extensive. In some cases this will result in a life-changing deformity or even necessitate an amputation.
If osteomyelitis occurs in the spine and treatment is inadequate, it can lead to long-term neurological deficit. Osteomyelitis will affect the spine in around one to seven per cent of cases.
What if doctors failed to treat osteomyelitis?
Sadly there are occasions when osteomyelitis is not treated to an acceptable standard. This might happen because doctors fail to make a diagnosis (and so treatment is delayed) or because doctors fail to ensure the infection has resolved before stopping treatment.
If you or your loved one has suffered complications because of poor osteomyelitis care, you might want to talk to a solicitor about your options. If there has been a substandard level of medical care, you could be entitled to claim compensation. For example, this might apply if medical practitioners:
Failed to consider osteomyelitis in a patient with unexplained fever and bone pain
Failed to consider osteomyelitis in a patient at risk of the condition – e.g. recent history of trauma, diabetes, drug abuse, diabetic foot ulcer
Failing to immobilise the infected area during treatment
Failing to provide targeted antibiotic treatment
Failing to provide sufficient treatment – e.g. not enough antibiotics or not operating when needed
If complications do occur because doctors fail to osteomyelitis, there may be grounds for a medical negligence compensation claim.
Lawyers for medical compensation claim
At Glynns Solicitors we specialise in clinical negligence law, meaning we are experts in helping victims of medical negligence claim the compensation they deserve.
If you or your family member has experienced complications because of a failure to diagnose and/or treat osteomyelitis, you could have grounds for a claim. We will be able to advise you further, saying whether you are entitled to financial compensation.
We offer everyone a free initial consultation. Therefore you can talk to a legal expert without having to worry about cost or obligation. Contact us for more information.
Free, no obligation enquiry
Please call us free on 0800 234 3300 (or from a mobile 01275 334030) or complete our Online Enquiry Form.

---