Cauda Equina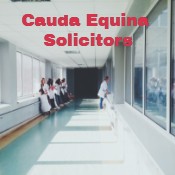 Cauda Equina Syndrome Solicitors
If you have suffered from Cauda Equina Syndrome, you may need specialist Cauda Equina Solicitors to help you make a claim. We have already helped hundreds of sufferers. Can we help you too?
What is cauda equina syndrome?
Cauda equina syndrome needs to be diagnosed and treated with decompression surgery on an emergency basis. This means within hours of the patient first presenting with symptoms.
A failure to achieve this standard of care could amount to medical negligence, for which the patient will be entitled to pursue a claim for compensation.
If you believe your cauda equina syndrome was not diagnosed and treated quickly enough due to medical errors, please get in touch with our specialist cauda equina solicitors. We specialise in claims relating to cauda equina syndrome and will be able say what went wrong with your care.
If medical mistakes are at fault, and this contributed towards you suffering a poor outcome, you will be able to make a compensation claim.
Failing to act on signs of cauda equina syndrome
Cauda equina syndrome will lead to a group of symptoms that together indicate sacral nerve disturbance. These symptoms include difficulty urinating, numbness around the genitals/perineum/buttocks, and weakness in the legs.
If a patient presents to a doctor with the sinister signs of sacral nerve disturbance, action must be taken immediately. Firstly there should be a thorough neurological examination, which should be shortly followed by an emergency MRI scan.
An MRI scan is a very useful tool in determining whether or not there is cauda equina nerve compression. If there is, the patient should then undergo emergency decompression surgery.
The whole process of diagnosing and treating cauda equina syndrome should be very quick, and for the best outcome must be achieved within 24 hours of the start of the patient's symptoms.
Any longer than 24 hours and the patient's prognosis will become increasingly worse. While cauda equina syndrome is not fatal, it can cause severe disabilities, with leg, bladder, bowel and sexual dysfunction. If treatment is not carried out within 48 hours, the patient will almost certainly face permanent disabilities.
If this delay in treatment is the fault of medical practitioners - because of a failure to diagnose or a failure to act with urgency - they will be responsible for the patient's poor outcome. In such cases there will be grounds for a medical negligence compensation claim.
Cauda equina claims solicitors
If you have been left with the symptoms of a chronic cauda equina syndrome, and you believe medical errors are to blame, you need to speak with a cauda equina solicitor quickly. We will advise whether you are able to make a claim, how to do it and how you can fund your claim for compensation.
Call us now for a free, no obligation assessment on 0800 234 3300 (or from a mobile 01275 334030) or complete our Online Enquiry Form.

Read more about cauda equina syndrome?
---
Testimonials
"Before we contacted you we had no real idea that we had grounds for a medical negligence claim but after speaking to you if became clear that Wendy was indeed treated poorly. Chris took the time to explain what was happening and kept us to speed. Our deepest gratitude to you all and Chris in particular."
"I would like to say a big thank you to you for making this whole process easy and relatively painless. You kept me informed throughout and you were always polite and courteous in all forms of communication. I would not hesitate to recommend you to friends and family, so a really big thank you and I wish you all the best in the future."
» Read More Medical Negligence Testimonials?

Free Cauda Equina Claim Guide