Medical Negligence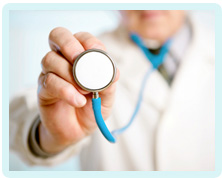 Clips Not Attached During Sterilisation
If your sterilisation failed because the surgeon failed to apply the clips correctly, you could be entitled to claim compensation for the damage you have incurred. Contact a medical negligence solicitor to find out more.
How does a sterilisation work?
Female sterilisation is a permanent method of contraception that is very difficult to reverse. It involves a surgical procedure under general anaesthetic. Most women will be able to have keyhole surgery, although if there are complications or if a woman has previously had abdominal surgery, a mini-laparotomy may be required.
During a keyhole sterilisation, the surgeon will make a small cut near the belly button, through which a laparoscope in inserted. A laparoscope is a thin flexible tube with a camera and a light attached to the end. This relays images to a screen, allowing the surgeon to see inside the abdominal cavity.
Once the fallopian tubes have been accurately identified, a plastic or titanium clip will be clamped to each tube. Photographs should be taken to ensure the clips have been properly attached. This works to ensure the egg cannot travel from the ovary, down the fallopian tube and into the uterus, where it would be normally be fertilised by sperm.
Therefore in order for a sterilisation to be successful, the fallopian tubes must be fully occluded or the egg will still be able to reach the uterus. The surgeon must correctly identify the fallopian tubes and attach the clips properly, or a sterilisation will fail.
Failed sterilisation
Although female sterilisation is a routine procedure, there are times when it will fail. Sometimes this can be for entirely non-negligent reasons. For example, the tubes can naturally regrow over time, a process which is called recanalization. However, there are occasions when a sterilisation will fail because of surgical error.
If your sterilisation has failed because of surgical error, it is very likely that you are the innocent victim of medical negligence. Most commonly, a woman will fall pregnant after having had a sterilisation and will subsequently need to undergo another procedure. Often it is during this second operation that a problem is discovered, as no clips can be seen on one or both fallopian tubes. This might have occurred because the surgeon:-
Attached the clip to the wrong structure, such as a ligament;
Did not properly attach the clips to the fallopian tubes;
Did not take photographs to ensure the clips were attached.
Claiming for a failed sterilisation
If your sterilisation has failed because the clips were not properly attached by the surgeon, please get in touch with us today to discuss your options.
Can We Help You With A Medical Negligence Enquiry?
Early legal assistance can be vital so please contact us if you would like to discuss your situation. Please call us free on 0800 234 3300 (or from a mobile 01275 334030) or complete our Online Enquiry Form.

---