Horse Work Accident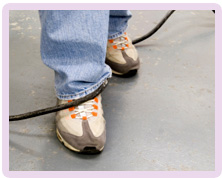 Groom Receives £7,750 After Being Struck By Horse
While she was working as a stud groom, Melissa was trying to tack up a young horse that had not yet been broken in. Another employee was supposed to be holding the lead rope but let go when the horse suddenly jumped in the air. The animal struck Melissa on the back of her neck, causing her to suffer painful neck and back injuries.
When Melissa was 29 years old she started a job as an assistant stud groom, where her duties involved grooming, feeding, medicating and general yard work. She had ridden horses all her life and had worked as a groom since she left college, making her extremely confident in all equestrian matters.
She had held this particular position for three or four months when, on the afternoon of 13 May 2009, she was asked to collect a four year old horse from the field and bring it back to the stable block. The request had been made by Lisa, the Head Girl at the stables, who wanted to lunge him in the riding school.
Once in the yard Lisa took hold of the lead rope on while Melissa proceeded to tack up. The horse had not been broken in and so was not used having a bridle and a saddle put on. Even so, he seemed relaxed and gave no indication that he was going to be difficult to handle. But as Melissa went to tighten the girth, the horse jumped several feet up in the air so that all four of its legs were off the ground. Lisa let go of the rope and the horse's front right leg came down on Melissa's neck and back with a tremendous blow. She was pushed sideways in some wheelie bins, where she laid suffering from shock and intense pain.
Lisa put the horse away and helped Melissa to her feet. Her back was throbbing and she decided to go home early to have a bath and rest. Nevertheless, the pain got increasingly worse, causing Melissa to have a sleepless night. She could barely get out of bed the next morning but did manage to visit her GP who prescribed some strong painkillers.
For the next three days Melissa remained unable to move. On the fourth day she returned to work, but only because Lisa had pressurised her to do so. However, she could barely perform her work duties and would not have been able to control a horse if one had got out of hand. She carried on in this way for another week, but felt she was being bullied at work and handed in her notice.
Melissa's symptoms failed to improve, so her GP referred her to a physiotherapist who diagnosed a trapped nerve. Although Melissa is now on the road to recovery, she feels very upset about her accident and the way she was subsequently treated by her employer. Her injuries have caused her months of pain and suffering, leaving her unable to enjoy social activities. She cannot ride regularly anymore, something which has caused her to become very depressed. She also suffered the cost of lost earnings and the expense of private physiotherapy treatment.
Believing another party was to blame for her injuries, Melissa contacted Glynns to discuss her case. We agreed that Lisa she should not have let go of the lead rope; furthermore, her employer had failed to provide the necessary training and had not ensured a safe system of work.
We helped Melissa make a work accident claim and she was awarded £7,750 compensation.
Bookmark This Article?
Can We Help You?
Please call us free on 0800 234 3300 (or from a mobile 01275 334030) or complete our online enquiry form.
Make a Free Enquiry About 'Medical Negligence'
Make a Free Enquiry About A 'Personal Injury Claim'
---
Testimonials
"I would like to take this opportunity to thank you very much for your continued professionalism and the consistantly friendly, approachable manner in which you have handled this claim. This has made all the difference in a situation that has at times been very sensitive and stressful for me.
Once again, many thanks."
Miss B, Norfolk
"Thank you for everything that Glynns did for us to achieve a successful outcome."

Anon

---