Horse Riding Accidents
How Do You Find The Right Solicitors For Your
Horse Riding Accident Claim?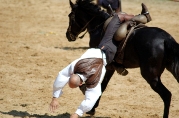 If you have been injured following a horse riding accident or following an accident involving a horse, what can you do about it?
We will find out what has happened and advise you of your options. Whether you are thinking about making a claim for compensation, or you just want to know what options are available for you, we can help you.
Types Of Horse Accident Claims
The types of accidents involving horses that can lead to a claim for compensation can include:
Being injured when thrown from a horse due to another road user failing to act responsibly when passing you
Being injured by a horse on a road if the horse was not properly restrained
Suffering an injury when a horse cart or carriage becomes detached or tips over
Being injured by a horse during the course of your employment (for instance if you work at riding stables, competitions, trekking centres, stud farms etc)
Being injured as a spectator at a horse event (such as showjumping, dressage etc)
Suffering an injury when a horse trailer or box becomes detached or tips over
At a riding stables or during the course of a riding lesson
What Should You Do If You Are Injured In A Horse Related Accident?
If you suffer an injury you need to obtain as much evidence as possible to confirm the circumstances leading to the accident. This should include:
Taking photographs of the scene immediately after the accident (and photographs of your injury) if possible
Obtaining the names and addresses of any witnesses to the accident (ask a friend or a colleague to do this if you are not fit to do so)
If the accident occurs at work ensure the details are noted in the 'Work Accident Book'
If the accident occurs on the road and someone suffers an injury, ensure it is reported to the police
How We Can Help You
All initial enquiries are completely free of charge, and if we can help you with a claim for compensation following an accident involving a horse, you will benefit from our 'no costs' service. This means that:
All initial enquiries are completely free of charge and without obligation
We will fight to obtain the right amount of compensation in the quickest possible time for you
We will arrange private medical treatment for you, if required
Can We Help You With A Horse Related Injury Claim?
Please call us free on 0800 234 3300 (or from a mobile 01275 334030) or complete our Online Enquiry Form for a free initial assessment and advice.
Make a Free Enquiry About A 'Horse Riding Accident'
---
Testimonials
"I would like to take this opportunity to thank you very much for your continued professionalism and the consistantly friendly, approachable manner in which you have handled this claim. This has made all the difference in a situation that has at times been very sensitive and stressful for me.
Once again, many thanks."
Miss B, Norfolk
"Thank you for everything that Glynns did for us to achieve a successful outcome."

Anon

---