Trip and Slip Accidents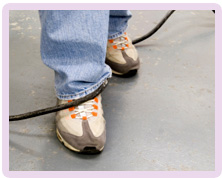 Tripping and Slipping Accident Claims -
Our Guide To Your Claim
If you have sustained an injury following a slipping or a tripping accident, you need to take early action. These cases are often more difficult to prove than other personal injury claims, and early action and legal advice is essential.
Securing Evidence
It is vital to obtain evidence of the exact location of your trip or slip. If you have tripped over a paving stone or a tree root protruding through the pavement, you need to take a picture of the scene of the accident and include an item to scale and date it (such as a newspaper). You should also measure the height of the defect above the surrounding pavement.
If you have slipped on an item photographic evidence is again vital, along with preservation of the item that you have slipped on, if possible.
Examples of Trip and Slip Accident Claims
Slipping on a grape in the supermarket
Tripping over a tree root protruding through the pavement
Slipping on water leaking from equipment at a place of work
Tripping over a paving stone
Slipping on oil at a petrol station
Tripping over disgarded packaging at a place of work
Free Trip or Slip Enquiry?
If you would like to benefit from a service of excellence with total commitment to client care from a friendly team, Glynns are ready and waiting to help you.
Please call us on 0800 234 3300 or complete our online enquiry form.
Make a Free Enquiry About A 'Trip or Slip Accident Claim'
---
Testimonials
"I would like to take this opportunity to thank you very much for your continued professionalism and the consistantly friendly, approachable manner in which you have handled this claim. This has made all the difference in a situation that has at times been very sensitive and stressful for me.
Once again, many thanks."
Miss B, Norfolk
"Thank you for everything that Glynns did for us to achieve a successful outcome."

Anon

---