Petrol Station Accident Claim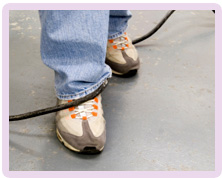 Our client was operating the jet wash at his local petrol station in the process of cleaning his car. He had parked his vehicle slightly to the side of the drainage sump before proceeding to wash it. Whilst in the process of washing his car, our client stepped back slightly and his left foot fell between the edge of the sump and first bar of the grille which covered the sump. Our client's leg became trapped and the emergency services had to be called out to release him.
As a result of this accident, our client sustained some abrasions to his head, together with quite severe swelling and bruising to the inside of the left knee, left ankle and mid thigh.
Our client instructed us with regard to the claim, whereupon not only were we able to secure an early admission of liability, followed thereafter by an award of £2,000.00 for his injuries, but, in addition, since our client's accident the jet wash area of the garage in question has been significantly modified to ensure that customers' cars can only be parked over the sump, therefore eliminating the risk of similar accidents happening in the future.
Bookmark This Article?
Can We Help You?
Please call us free on 0800 234 3300 (or from a mobile 01275 334030) or complete our online enquiry form.
Make a Free Enquiry About 'Medical Negligence'
Make a Free Enquiry About A 'Personal Injury Claim'
---
Testimonials
"I would like to take this opportunity to thank you very much for your continued professionalism and the consistantly friendly, approachable manner in which you have handled this claim. This has made all the difference in a situation that has at times been very sensitive and stressful for me.
Once again, many thanks."
Miss B, Norfolk
"Thank you for everything that Glynns did for us to achieve a successful outcome."

Anon

---