Knee Injury Accident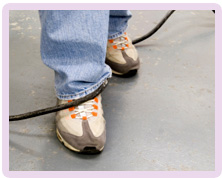 Faulty Football Boots Causes Knee Injury
Matthew was enjoying a game of football with his friends when the stitching on his football boots came apart, causing his knee to collapse. The boots had only been worn four or five times, and were manufactured by a well-known sport clothing company.
He had previously bought the boots two months previously, and was playing a friendly game of 6/8 aside football on an Astroturf pitch. Towards the end of the session, the healthy 23 year old attempted to tackle a member of the opposition who had the ball. As the player dodged from left to right, Matthew followed his movements and, as he came off his left leg, his right leg collapsed. The stitching had come undone on his right boot, leaving his foot and leg completely unsupported.
Following the incident, Matthew was in so much pain he had to be carried to the changing room and driven home. The self-employed insurance broker was forced to take two weeks off work, during which time he was able to straighten his leg.
After a fortnight he was, at last, able to walk and bear weight on his right leg. However, the strength remained very poor and at the times his knee would simply collapse without warning. Due to his continuing symptoms, doctors decided to carry out an MRI scan to investigate whether there was any underlying damage. The scan showed that there in fact a problem – the meniscus of his knee had been damaged by the incident, an injury which required surgical intervention.
Matthew was booked in to have surgery to repair the damage to his knee, and the operation was performed a few months later. Since then he has gradually been able to return to activities such as running and fitness, but he is unlikely to play football competitively again. Matthew had already suffered from previous injuries to his knee, for which he had undergone surgery two years previously, but an examination showed this injury was not linked to the recent injury.
Matthew's incident left him unable to drive for almost ten weeks, needing help with everyday tasks such as washing and dressing, and affected his appearance resulting in depression. These were direct effects of the damage to his knee, caused by, among other reasons, the sale of faulty football boots by the sport clothing company and the lack of support to Matthew's leg and foot when the stitching of the boots came apart.
Matthew was advised to make a product liability claim on these grounds and, considering the damage to his knee and daily activities, Glynns assisted Matthew in receiving a compensation sum of £12,500.
Bookmark This Article?
Can We Help You?
Please call us free on 0800 234 3300 (or from a mobile 01275 334030) or complete our online enquiry form.
Make a Free Enquiry About 'Medical Negligence'
Make a Free Enquiry About A 'Personal Injury Claim'
---
Testimonials
"I would like to take this opportunity to thank you very much for your continued professionalism and the consistantly friendly, approachable manner in which you have handled this claim. This has made all the difference in a situation that has at times been very sensitive and stressful for me.
Once again, many thanks."
Miss B, Norfolk
"Thank you for everything that Glynns did for us to achieve a successful outcome."

Anon

---