Garden Centre Work Accident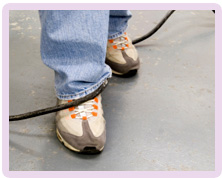 Employee Trips Over Scaffold
While walking along a scaffolding walkway, Jake suddenly tripped on some scaffolding boards that had mistakenly been left sticking out. He fell and landed heavily on his shoulder, causing a serious injury which prevented him from working for a further three months.
Jake was a healthy 37 year old who enjoyed his job as a self-employed bricklayer. He had been in the industry many years and was experienced in working on construction sites. He had never before suffered any form of injury as an employee, but unfortunately on the afternoon of 13 January 2009 all this was about to change.
He was working on a site at Woolwich Barracks in South East London. Jake finished his shift at about 4.15 and made his way to the changing area. Because he was positioned on the third floor of the building, it was necessary to walk along the scaffolding to reach his destination. There was walkway with a mental handrail that rang along the scaffold that enabled him and other employees to do so in relative safety.
Jake followed the walkway along the length of the building. As he turned the corner, however, he tripped over some scaffolding boards that had been left sticking out. He fell forwards and hit his right shoulder on the metal handrail, immediately causing an intense pain to run through his right hand side.
Despite being in a large degree of discomfort, Jake continued home and hoped the pain would alleviate with time. Nevertheless, two days later there was no improvement in his symptoms, and even just lifting a kettle proved incredibly painful. Consequently Jake attended his local A&E department where an x-ray showed he had suffered a shoulder injury. He was fitted with a sling before being referred to a physiotherapist for further treatment.
Due to his injuries, Jake was unable to work for the following three months. This had extreme financial implications, as he was self-employed and did not receive any statutory sick pay. Instead he was forced to rely on benefits. Furthermore, Jake remained in a significant amount of pain and was very limited to the tasks he could perform, even when he returned to work in at the end of March.
The problems with Jake's shoulder did not get any better. When he was reviewed by an orthopaedic surgeon eighteen months after the incident, the doctor noted that there had been little improvement, highlighting that Jake was still unable to undertake any domestic chores with his right arm. In order to rectify the issue, a subacromial decompression operation was performed in August 2010 and, after an initial period of recovery, Jake regained almost normal shoulder function.
Worried about the level of financial loss he had incurred, Jake contacted Glynns to enquire about a work accident claim. We advised that his employer had indeed been negligent, as the company had failed to ensure the walking way remained free of obstacles. Jake decided to pursue legal action for his injuries, and we helped him recover £31,176 compensation.
Bookmark This Article?
Can We Help You?
Please call us free on 0800 234 3300 (or from a mobile 01275 334030) or complete our online enquiry form.
Make a Free Enquiry About 'Medical Negligence'
Make a Free Enquiry About A 'Personal Injury Claim'
---
Testimonials
"I would like to take this opportunity to thank you very much for your continued professionalism and the consistantly friendly, approachable manner in which you have handled this claim. This has made all the difference in a situation that has at times been very sensitive and stressful for me.
Once again, many thanks."
Miss B, Norfolk
"Thank you for everything that Glynns did for us to achieve a successful outcome."

Anon

---