Work Accident Solicitors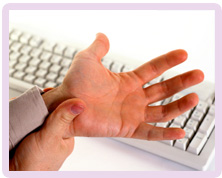 Accident At Work
Automatic Fridge Door Accident
Our client, Mr F, was working for a commercial food supplier. Part of his job involved the preparation of food for which he needed to visit a commercial fridge with an automatic door to obtain ingredients. On the day of the accident Mr F went to the fridge and as one of his colleagues was coming out the fridge door was open. However, as he walked into the fridge the door started to close on him. He put his hand out to hit the safety mechanism to keep the door open but it did not work, and Mr F became trapped between the door and the door jamb. He could not reach the emergency button and the door jammed against his shoulder. After about ten seconds another work colleague managed to operate the emergency button, but by this time Mr F had "felt something go" in his shoulder and had sustained an injury.
We investigated the circumstances of the accident for him and obtained witness evidence to support his claim.
Medical evidence was obtained confirming the injury sustained; a soft tissue injury which prevented him from returning to work for 10 weeks. He received steroid injections and regularly took anti-inflammatory medication and painkillers. We also arranged physiotherapy treatment for him. The consultant anticipated that he would make an 85% recovery in his range of movement, however the pain and suffering in his left shoulder restricted his ability to ride a motorcyle or swim and he was unable to lift anything (including his children) above his head.
We issued court proceedings and obtained judgement for Mr F with the amount of compensation to be assessed at a later date.
Mr F underwent had an operation to his left shoulder but continued to experience pain, lack of movement and a restriction of house and gardening activities.
He received £13,000 in settlement of his claim and we ensured that he kept all of his compensation as we do with all of our work accident claim clients.
Would You Like Assistance from Specialist Accident At Work Claim Solicitors?
Having suffered injury you now want to be handled professionally, competently and efficiently by solicitors who communicate in straightforward and friendly terms and who specialise in the field of injury law.
If you would like to benefit from a service of excellence with total commitment to client care from a friendly team, Glynns are ready and waiting to help you.
To make a free, no obligation enquiry please call us on 0800 234 3300 (or from a mobile 01275 334030) or complete our Online Enquiry Form, thank you.

---
Testimonials
"I would like to take this opportunity to thank you very much for your continued professionalism and the consistantly friendly, approachable manner in which you have handled this claim. This has made all the difference in a situation that has at times been very sensitive and stressful for me.
Once again, many thanks."
Miss B, Norfolk
"Thank you for everything that Glynns did for us to achieve a successful outcome."

Anon

---