Road Accident Claim Solicitors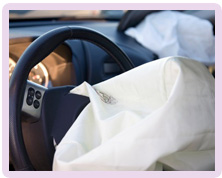 Motorcycle Accident Claim
£50,000 for motorcyclist
Our client, Mr S from Bath was travelling in the outside lane of a dual carriageway at around 20mph when a driver of the car pulled into his lane colliding with him and knocking him from his motorbike.
The police and an ambulance were called and Mr S was taken to the Royal United Hospital in Bath. Some X-rays were taken and Mr S was later discharged home. He sustained a partial dislocation of his left shoulder, fractures to his second, third, fourth and fifth ribs on the left side of his chest, a deep laceration to his left knee, bleeding into his lung, a laceration to his left elbow and an injury to his right thumb.
Pain in his chest prevented him from sleeping well at first and continued for two months until physiotherapy treatment was arranged.
Mr S also experienced a cold index finger in his right hand which at one stage turned black. He damaged some of his teeth in the impact of the collision but this was not discovered until sometime after the date of the accident.
Mr S underwent an operation on his shoulder 11 months after the accident due to continued pain and inability to sleep, and another operation 27 months after the accident to remove a plate in his left clavicle. This second operation greatly improved Mr S's ability to sleep.
His claim was settled for £50,000.
Would You Like Assistance from Specialist Road Accident Claims Solicitors?
For a free road accident claim assessment please call us on 0800 234 3300 or complete our online enquiry form.
Make a Free Enquiry About A 'Road Accident Claim'
---
Testimonials
"I would like to take this opportunity to thank you very much for your continued professionalism and the consistantly friendly, approachable manner in which you have handled this claim. This has made all the difference in a situation that has at times been very sensitive and stressful for me.
Once again, many thanks."
Miss B, Norfolk
"Thank you for everything that Glynns did for us to achieve a successful outcome."

Anon

---