Necrotising Fasciitis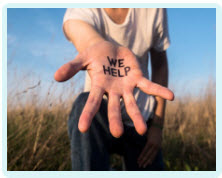 What are the long-term effects of necrotising fasciitis?
Necrotising fasciitis is a devastating, life-threatening infection. Up to 40% of people who contract the illness are likely to die from it. Those who survive are likely to suffer long-term, life-changing effects.
What is necrotising fasciitis?
Necrotising fasciitis is a fast-acting infection that affects and destroys the soft, deep tissue of the body, releasing toxins which destroy tissue and spreading until stopped by surgery. If the infection gets into the blood, it is likely to lead to blood-poisoning, a drop in blood pressure and multiple organ failure.
How is necrotising fasciitis treated?
If a patient is exhibiting signs of a possible necrotising fasciitis infection, it is vital that they receive intravenous broad-spectrum antibiotics immediately to help the body fight the infection and reduce the chances of sepsis developing.
The affected tissue will need to be surgically removed (debridement) to try to prevent the spread of infection to surrounding tissue. It is likely that more than one surgical debridement will be necessary before it is clear that all infection has been removed. In extreme cases, where tissue damage has extended over a wide area, amputation of a limb may be necessary to save the patient's life.
Patients with necrotising fasciitis are likely to remain in hospital and require intensive care for some considerable time. Medical support to maintain bodily functions and safe blood pressure levels will be necessary as the body fights the infection.
What are the long-term effects of necrotising fasciitis?
Impaired health
Research has suggested that, even when patients survive, the experience of necrotising fasciitis can reduce their life expectancy. These patients seem to be left with an increased susceptibility to infections such as pneumonia, urinary tract infections and sepsis.
Loss of limb(s)
Where amputation has taken place, the patient may need to use a wheelchair or crutches. They are likely to require long-term physiotherapy and may need living adjustments to be made to their home – such as a stair lift or accessible bath/shower - with the support and advice of an occupational therapist. It may be necessary to move to new accommodation to facilitate independent living.
Debridement
Where extensive debridement has been necessary, the patient may require reconstructive and cosmetic surgery. Reconstructive surgery aims, where possible, to repair the damaged area and restore function. The nature of the surgery will depend on the site and extent of damage.
A skin graft is likely to be necessary where damaged skin has been removed. This involves the transfer of healthy skin from another area of the body, such as the thigh or buttocks, to the affected area, where it is stitched or stapled to the surrounding tissue. It may take up to 18 months for the skin graft to fully heal and is likely to leave a scar.
In the case of irreparable damage or destruction to the bowel or bladder, it may be necessary for a colostomy bag, ileostomy bag or catheter to be fitted permanently to provide faecal and urinary functions.
Physical Recovery
Where extensive debridement or amputation has taken place, the patient will require on-going physiotherapy to deal with the physical damage caused by the infection and to recover as much physical movement and function as possible. The nature of this will depend on the extent and location of damage.
Counselling
Anyone suffering the long-term effects of necrotising fasciitis is likely to be experiencing from some form of psychological impact, whether it be depression, anxiety or shock. The experience of the condition, the treatment and the after-effects are all shocking and many people will require the services of a counsellor or psychotherapist to help them deal with the impact this horrific illness has had on their lives.
Life-style changes
In view of the apparent impact of necrotising fasciitis on long-term survival rates, it may also be appropriate to make other changes to life-style in order to boost the immune system and reduce chances of future infections. This may necessitate dietary changes, stopping smoking, losing weight etc.
Surviving necrotising fasciitis
Vital to surviving necrotising fasciitis and reducing the severity of long-term effects is the prompt diagnosis and treatment of the condition. The presence of red flag symptoms, such as fever, intense pain, diarrhoea and vomiting, especially in combination with the presence of a cut to the skin, whether through surgery, a wound, a cut or a bite should alert medical practitioners to the possibility of developing necrotising fasciitis and action should be taken immediately.
Medical Negligence
Glynns Solicitors are a team of specialist medical negligence solicitors, with expertise in dealing with necrotising fasciitis compensation claims. If you believe you have suffered from delayed diagnosis and treatment of necrotising fasciitis, contact us to discuss your circumstances.
Please call us free on 0800 234 3300 (or from a mobile 01275 334030) or complete our Online Enquiry Form.

---
Testimonials
"Before we contacted you we had no real idea that we had grounds for a medical negligence claim but after speaking to you if became clear that Wendy was indeed treated poorly. Chris took the time to explain what was happening and kept us to speed. Our deepest gratitude to you all and Chris in particular."
"I would like to say a big thank you to you for making this whole process easy and relatively painless. You kept me informed throughout and you were always polite and courteous in all forms of communication. I would not hesitate to recommend you to friends and family, so a really big thank you and I wish you all the best in the future."
» Read More Medical Negligence Testimonials?

Free Nectorising Fasciitis Guide