Necrotising Fasciitis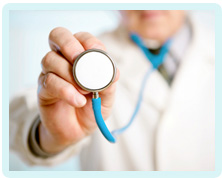 Top Ten Facts About Necrotising Fasciitis
Necrotising fasciitis is a flesh-eating disease. Just the mere mention of it is enough to send shivers up the spine of even those with the most robust constitutions.
If necrotising fasciitis is not diagnosed swiftly, severe consequences can develop and the condition can be life-threatening. If your GP or doctor fails to diagnose necrotising fasciitis or treats it incorrectly, resulting in further harm, you may be able to claim compensation for medical negligence.
Here are ten facts about necrotising fasciitis, many of which dispel some long held myths about the disease.
One – Necrotising fasciitis bacteria does not actually eat flesh
Although it is sometimes referred to as a flesh-eating disease, the bacteria's that cause the illness do not eat flesh. Instead, they release toxins that damage or destroy the tissue, fat and skin covering the muscles in a short space of time.
Fournier's gangrene occurs when the perianal area, perineum and/or external genitalia are infected by the bacteria.
Two - Necrotising fasciitis can kill you
Necrotising fasciitis can be fatal if not diagnosed promptly and/or correctly. Streptococcal toxic shock syndrome (strep TSS) can develop as a complication to necrotising fasciitis and between 30-60% of victims who contract TSS die.
Three – Symptoms develop fast
Symptoms of necrotising fasciitis can develop in a matter of hours. Signs to watch out for include:
a small, painful cut or abrasion on the skin
intense pain
flu-like symptoms and a high temperature
feeling tired and weak
If left untreated the severity of the symptoms will increase to include:
redness and firm swellings developing in the infected area
diarrhoea and being sick
fluid-filled blisters developing on the skin
Shock, organ failure and death will follow if treatment is not given as soon as possible.
Four – Clean and healthy people can develop necrotising fasciitis
Although necrotising fasciitis often affects people living in poor, unhygienic conditions, the bacteria can infect young people and those living in clean, affluent areas.
There are a number of different types of bacteria that can cause necrotising fasciitis, the most common being Group A Streptococcus. Others include:
Aeromonas hydrophila
Clostridium
Escherichia coli
Klebsiella
Staphylococcus aureus
The bacteria can enter your skin through a cut, insect bite, surgical wound or even through the puncture mark of a needle. It is uncommon for healthy people to contract necrotising fasciitis but it does happen. In April 2016, a lorry driver from Northern Island was an hour from death after contracting necrotising fasciitis. He went to bed perfectly normally and woke up in the middle of the night feeling cold, nauseous and pathologically thirsty. The pain became excruciating and he was rushed to Antrim Hospital where surgery saved his life.
Doctors were mystified as to what caused the bacteria to enter the man's body, but they believe it may have been a spider bite.
The elderly, those addicted to drugs and alcohol and people in poor general health are more susceptible to developing necrotising fasciitis.
Five – There is no vaccine to prevent necrotising fasciitis
There is no vaccine available to prevent or treat necrotising fasciitis. The best way to protect yourself is to:
treat wounds swiftly and clean them thoroughly
change dressings regularly
wash your hands regularly with soap and water
if you have liver disease, do not eat seafood as it may be contaminated with Vibrio vulnificus and avoid any contact with seawater
Six - Necrotising fasciitis is not usually contagious
Normally you cannot catch necrotising fasciitis from an infected person. It is however possible for uninfected people to physically come into contact with some patients with the disease and become infected with an organism that may eventually cause necrotising fasciitis. For example, a person could come in contact with a lesion containing MRSA organisms causing or contributing to the disease in another person and then become infected with Methicillin-resistant Staphylococcus aureus (MRSA). Transmission from one person to another usually requires direct contact with a patient or some item that can transfer organisms such MRSA to another person's skin; infection usually requires a skin break (cut or abrasion) for the organisms to establish an infection.
Seven - Necrotising fasciitis can result in long-term disability
The most severe complication arising out of necrotising fasciitis (apart from death) is organ failure and/or amputation of a limb. Patients may also lose a great deal of tissue and suffer nerve damage. Skin grafting and reconstructive surgery may also be required.
Eight – Medical professionals have a duty of care to ensure necrotising fasciitis does not develop as a result of surgery or other medical treatment and diagnose it quickly
Because surgery results in a wound being created and closed, it is imperative that medical staff use surgically sterilised equipment, are appropriately gowned and watch for any signs of infection in the patient.
If a patient presents themselves at a GP's surgery or A&E showing symptoms of necrotising fasciitis, it is vital that medical staff recognise it quickly and get the patient into surgery.
Failure to do any of the above may amount to medical negligence.
Nine- You can claim compensation for necrotising fasciitis
If you developed necrotising fasciitis as a result of medical negligence, you may be able to claim compensation. You will need to prove that healthcare providers failed in their duty of care to you and as a result you developed necrotising fasciitis or, alternatively, it was not treated properly.
Ten – Compensation can help you rebuild your life
Even if you make a full recovery necrotising fasciitis can be devastating psychologically. If you have also suffered physical complications such as an amputation, recovery can take months if not years. Compensation will help you and your family recover from your ordeal and provide you with an income if you are unable to work.
Free Necrotising Fasciitis Enquiry
At Glynns Solicitors we have the expertise required to successfully act for people who have developed necrotising fasciitis as a result of medical negligence.
Please call us free on 0800 234 3300 (or from a mobile 01275 334030) or complete our Online Enquiry Form.

---
Testimonials
"Before we contacted you we had no real idea that we had grounds for a medical negligence claim but after speaking to you if became clear that Wendy was indeed treated poorly. Chris took the time to explain what was happening and kept us to speed. Our deepest gratitude to you all and Chris in particular."
"I would like to say a big thank you to you for making this whole process easy and relatively painless. You kept me informed throughout and you were always polite and courteous in all forms of communication. I would not hesitate to recommend you to friends and family, so a really big thank you and I wish you all the best in the future."
» Read More Medical Negligence Testimonials?

Free Nectorising Fasciitis Guide