Necrotising Fasciitis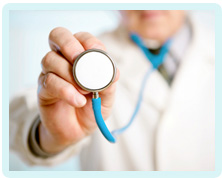 Tissue Eating Disease
Necrotising fasciitis, or 'NF', is a type of tissue eating disease. It can cause widespread gangrene and fatal complications if not treated quickly enough.
NF flesh eating disease
The necrotising fasciitis bacteria do not actually eat the tissue, despite its label as a flesh eating disease. However, it does look as though the tissue is being consumed, as it will gradually die.
So what is really happening?
Necrotising fasciitis begins when certain types of bacteria get into the body. Normally they enter through some sort of gap in the skin – such as a wound or cut. When the bacteria reach the soft tissues, they reproduce rapidly, quickly spreading across an ever growing area.
The reproduction process releases a toxin into the body, and this is what damages the tissue. As it breaks down, the blood vessels will not be able to reach the tissue properly, causing it to become deficient in oxygen. Consequently the breakdown of tissue is accelerated, as the cells cannot live without oxygen.
Necrotising fasciitis appearance
When the tissue begins to die because it is starved of oxygen, it is called gangrene. Before this, the tissue will turn red in colour. As gangrene takes hold, the tissue will become purple and black. Once it is black, the cells have died and a patient is said to have tissue necrosis. After this the tissue will simply disintegrate and a gaping wound will appear.
Therefore the appearance of necrotising fasciitis can be truly shocking. It is also shocking how quickly it can take hold, with widespread tissue death occurring within days of the bacteria entering the body. Huge areas of tissue can become black and rotten, while great open wound can develop. Sometimes so much tissue will die that the bone will be exposed.
NF treatment
The only treatment for necrotising fasciitis is intravenous antibiotics and surgical debridement. Surgical debridement is especially important as it involves removing all the dead and infected tissue. This is the only way to rid the body of bacteria and stop further tissue death.
It may be that so much tissue has already died, the patient must undergo a limb amputation. Organ support may also be needed in the Intensive Care Unit, as the bacteria can get into the bloodstream, resulting in sepsis. This causes the organs to shut down.
Thus NF has potentially very serious consequences. These can be prevented, but only if treatment is given quickly.
NF claims
If medical practitioners fail to provide treatment in time, causing serious necrotising fasciitis complications or a fatality, there could be grounds for a legal claim. Please get in touch with us to find out more.
Need Advice About Necrotising Fasciitis?
If you believe that you or a member of your family have been infected, please contact us for early legal advice. All initial enquiries are completely free of charge.
Please call us free on 0800 234 3300 (or from a mobile 01275 334030) or complete our Online Enquiry Form.

---
Testimonials
"Before we contacted you we had no real idea that we had grounds for a medical negligence claim but after speaking to you if became clear that Wendy was indeed treated poorly. Chris took the time to explain what was happening and kept us to speed. Our deepest gratitude to you all and Chris in particular."
"I would like to say a big thank you to you for making this whole process easy and relatively painless. You kept me informed throughout and you were always polite and courteous in all forms of communication. I would not hesitate to recommend you to friends and family, so a really big thank you and I wish you all the best in the future."
» Read More Medical Negligence Testimonials?

Free Nectorising Fasciitis Guide