Necrotising Fasciitis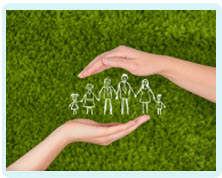 Suing the NHS for Delayed Treatment of Fournier's Gangrene
Fournier's gangrene is a medical emergency. Delaying treatment will almost inevitably result in the patient suffering a poor long-term outcome.
Soft-tissue infections
Fournier's gangrene is a version of necrotising fasciitis, a soft-tissue infection with the capacity to kill.
Once the bacteria responsible for the infection reaches the body's deep tissue, it can spread rapidly threatening the life of the patient within days. Early diagnosis and emergency surgical treatment is, therefore, fundamental to the patient's prognosis.
Necrotising fasciitis most frequently develops in the abdomen or the limbs. Fournier's gangrene commences in the groin and around the genitals. It can destroy the patient's sexual function and, if it spreads to the buttocks and bowel, can destroy bowel function also.
Any delay in the commencement of treatment is likely to produce a deterioration in patient health. The infection will have time to spread further through the body's connective tissue, causing increasing levels of damage.
Treating fournier's gangrene
Although antibiotics are necessary to the management of fournier's gangrene, emergency surgery is key to the patient's outcome. Once a patient is diagnosed with fournier's gangrene, or even where it is suspected, rapid debridement (removal) of infected tissue, is absolutely imperative to prevent the continued spread of the infection. Unless the infection is halted, the patient's life-support mechanisms will be undermined causing the patient to die.
Again, it is clear that an urgent response is vital.
Fournier's gangrene most frequently occurs in men and the impact can be utterly devastating with the potential need for tissue removal from either or both penis and testicles.
Diagnosis and emergency action is key to limiting the extent of impact.
Medical negligence
Patients whose possible symptoms of fournier's gangrene or necrotising fasciitis are missed or misdiagnosed are likely to suffer in the long-term and it may be appropriate to consider making a claim for compensation.
Signs of a possible necrotising infection include pain in the area of the infection or wound alongside swelling, redness and tenderness to the touch. The patient may also be exhibiting symptoms of infection such as chills or a high temperature and fast breathing.
Patients who are diabetic, overweight or with a weak immune system are particularly vulnerable to a soft-tissue infection as are patients with a wound such as an abscess or who have recently undergone surgery.
A failure by medical professionals to realise the significance of the patient's symptoms can put the patient in a life-threatening situation. Fournier's gangrene or necrotising fasciitis can lead to sepsis and the risk of multiple organ failure.
Speak to a solicitor
If you or a loved one are suffering the permanent impact of a failure to respond urgently to symptoms of fournier's gangrene, contact Glynns to talk to a specialist medical negligence solicitor.
Please call us free on 0800 234 3300 (or from a mobile 01275 334030) or complete our Online Enquiry Form.

---
Testimonials
"Before we contacted you we had no real idea that we had grounds for a medical negligence claim but after speaking to you if became clear that Wendy was indeed treated poorly. Chris took the time to explain what was happening and kept us to speed. Our deepest gratitude to you all and Chris in particular."
"I would like to say a big thank you to you for making this whole process easy and relatively painless. You kept me informed throughout and you were always polite and courteous in all forms of communication. I would not hesitate to recommend you to friends and family, so a really big thank you and I wish you all the best in the future."
» Read More Medical Negligence Testimonials?

Free Nectorising Fasciitis Guide