Necrotising Fasciitis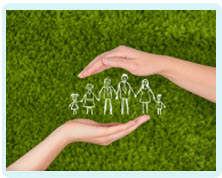 Pressure Sores and Necrotising Fasciitis
Pressure sores are a known and fairly common complication of prolonged immobility. However, when a pressure sore is not diagnosed and treated, it can quickly lead to a life-threatening condition.
What are pressure sores?
Pressure sores, also known as bedsores or pressure ulcers, are areas of skin and underlying tissue that have become damaged as a result of pressure being applied to that area usually over a long period of time. This can lead to a reduction in blood flow, causing the tissue to break down. Understandably, pressure sores generally occur in areas of the body that are likely to be in direct contact with a supporting surface - a bed or chair – such as elbows, buttocks, heels and the base of the back.
Who is susceptible to pressure sores?
Someone who is immobile for long periods of time, whether due to long-term or temporary disability will be vulnerable to developing a pressure sore. This particularly includes the elderly who are more likely to experience mobility problems, and those in hospital for a condition or procedure that impairs their mobility during their stay.
How can pressure sores lead to necrotising fasciitis?
Necrotising fasciitis can be a complication of pressure sores because the sore or ulcer can give bacteria a way of accessing the deeper tissue of the body. Necrotising fasciitis can be caused by a range of bacteria that may be relatively harmless outside the body but, when they reach the deep tissue layer inside the body, they can cause extensive and life-threatening destruction to the tissue.
Preventing pressure sores
Pressure sores are known to be a significant problem when someone is immobile for periods of time.
The National Institute for Health and Care Excellence (NICE) recommends that an assessment is undertaken for all patients being admitted to NHS services in any settings who might be at risk of developing a pressure sore due to actual or anticipated immobility, inability to move themselves, nutritional deficiency, cognitive impairment and knowledge of an existing or pre-existing pressure sore.
Where a patient is identified as being at risk or at high risk, it is recommended that they be moved in an appropriate manner so as to minimise damage a minimum of every 4 or 6 hours.
Furthermore it is recommended that attention be paid to the type of mattress and cushioning provided to at-risk patients.
Risk of necrotising fasciitis
Pressure sores are often graded according to severity. The development of necrotising fasciitis due to a pressure sore is most likely where the patient has a high grade sore.
In such circumstances, careful monitoring of the patient's condition would be appropriate to look for signs of necrotising fasciitis.
Necrotising fasciitis is a fast-moving infection that can destroy tissue and usually requires surgical removal (debridement) of all affected tissue. This can cause devastating damage to the patient, even to the point of amputation.
Medical Negligence
If you or a loved one suffered the shocking effects of necrotising fasciitis following a pressure sore that was poorly treated, you may be entitled to compensation.
Contact Glynns Solicitors to discuss your case with a solicitor experienced in supporting medical negligence claims.
Please call us free on 0800 234 3300 (or from a mobile 01275 334030) or complete our Online Enquiry Form.

---