Necrotising Fasciitis Cases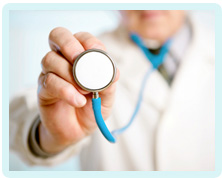 Pregnant Woman Develops Necrotising Fasciitis
During the late stages of pregnancy Sunita became very unwell. She was seen by a GP but was dismissed without even being examined. A day later she was rushed to hospital with a severely infected abscess, from which she only just recovered.
When she was 35 weeks pregnant with her second child, Sunita fell ill. She was running a fever, had sickness and diarrhoea, and found a small golf ball sized lump in the left side of her groin. She became extremely worried, both about her own health and that of her unborn baby. Therefore on Saturday 5th February 2010 she attended an out-of-hours emergency doctor.
However, the doctor did not examine her, take her blood pressure or even look at the lump in her groin. Instead he told Sunita that her symptoms were normal in the later stages of pregnancy and prescribed some anti-sickness medication. This being her second child, she knew it was something other than pregnancy, but she was simply too tired to argue.
By the following day the lump on Sunita's groin had swollen, was intensely painful and oozing fluid. Feeling delirious, she managed to get a taxi to A&E where a student nurse told her she was in labour. Despite her confused state, Sunita knew that her waters had not broken. Even so, she was admitted to the labour ward.
Having been admitted, Sunita was found to have a large abscess on her groin. She was started on strong antibiotics and attached to an intravenous drip. On 9th February she was told that her baby's heart rate had dropped, while her own blood pressure had risen to a dangerously high level. An emergency C-section was carried out that day, and thankfully a healthy baby boy was born.
Unfortunately after the procedure Sunita's condition deteriorated. The antibiotics were having little effect on the abscess, which was by now severely infected. She was drifting in and out of consciousness and at times thought she was still pregnant. She continued to get progressively worse and was soon transferred to the intensive care unit.
It was not until Sunday 13th February that medical practitioners realised Sunita had contracted necrotising fasciitis, a serious bacterial infection that attacks the flesh. The consultant treating her decided to perform an emergency operation to remove the abscess and the infected flesh around it. A large area of tissue had to be removed, leaving her with a gaping wound.
Sunita spent two months in hospital, during which time she required extensive medical care, including skin grafts and physiotherapy. After being discharged she remained with her sister for several weeks as she was too frail to care for herself, let alone her two young children. She has been left with an awful defect, something which has seriously affected her confidence and self-esteem.
Since her illness, Sunita has suffered terrible psychological problems. She was extremely traumatised by the events and subsequently became depressed and anxious.
These devastating physical and emotional injuries could have been avoided, had the out-of-hours doctor examined Sunita. Her complications could have been further minimised had the hospital carried out earlier surgery to drain and remove the abscess. We helped Sunita make a claim for the substandard care she encountered. She was awarded over £70,000 compensation.
(Details which might identify our client have been changed.)
Would You Like Assistance from Specialist Necrotising Fasciitis Negligence Claims Solicitors?
If you would like to benefit from a service of excellence with total commitment to client care from a small and friendly team, Glynns are ready and waiting to help you.
Early legal assistance is essential. Please call us free on 0800 234 3300 (or from a mobile 01275 334030) or complete our Online Enquiry Form.

---