Necrotising Fasciitis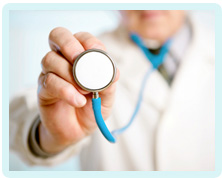 Permanent Necrotising Fasciitis Injuries
If your life has been adversely affected by necrotising fasciitis, you could be entitled to compensation. Contact us to find out if medical negligence has caused you to suffer wrongful necrotising fasciitis injuries.
My life has been ruined by necrotising fasciitis
Necrotising fasciitis is a severe infection of the soft tissue. It can be fatal if not treated quickly enough. Even if a patient does survive, delays in treatment can result in life-changing injuries.
For example, the patient may be left severely scarred and deformed due to extensive debridement surgery. This can also be associated with ongoing pain.
The loss of tissue can cause physical dysfunction, leaving someone unable to do even everyday tasks such as lifting, housework and social activities. If an organ was involved, further medical interventions may be required on a long-term basis. For instance, if part of the bowel is removed, a colostomy will be fitted.
Along with physical injuries, it is likely that the patient will suffer psychological injuries, such as adjustment disorder, anxiety, depression and agoraphobia. These may improve with therapy.
Both the physical and psychological effects of necrotising fasciitis can render someone unable to work. If the patient was in employment, he/she may have to retire on medical grounds. This can lead to serious financial difficulties, particularly if the person has dependents.
Has this happened to you?
If your life has been turned upside down because of necrotising fasciitis, you should consider whether medical error is to blame for your injuries.
Necrotising fasciitis must be diagnosed and treated quickly, or the patient will be left with terrible long-term injuries, such as those described above. Any delays will be very harmful as more and more tissue will become infected. All of this will have to be surgically removed, meaning greater physical and psychological damage.
If there are delays because of medical error, there could be a case of medical negligence. Even just a delay of six to eight hours can significantly affect the outcome, leaving a patient with injuries that could have been avoided with an earlier diagnosis.
Expert legal advice
If you or your loved one has been harmed due to delays in necrotising fasciitis care, please get in touch with us at Glynns Solicitors to discuss making a medical negligence claim. We specialise in this area of law and can provide expert legal advice, explaining whether you have grounds for a claim. This advice is completely free of charge.
Need Advice About Necrotising Fasciitis?
If you believe that you or a member of your family have been infected, please contact us for early legal advice. All initial enquiries are completely free of charge.
Please call us free on 0800 234 3300 (or from a mobile 01275 334030) or complete our Online Enquiry Form.

---