Necrotising Fasciitis Cases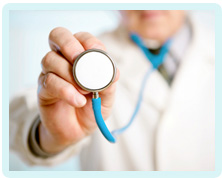 Perineal Abscess Leads to Flesh-Eating Disease
Despite being correctly diagnosed with a perineal abscess, Veronica was not given treatment she required. Consequently the abscess became increasingly severe, resulting in a serious flesh-eating disease called necrotising fasciitis.
In the hope of improving her diabetes, Veronica agreed to undergo a gastric band operation. When she came round from the anaesthetic she was told the operation had gone well. After 24 hours on the ward, she was discharged home.
For the following two days Veronica had some discomfort and pain in her abdominal area, which she understood to be entirely normal. However, she also began to suffer an upset stomach, diarrhoea and pain in her buttocks. She became increasingly unwell and the following day had a fever and a swelling near to her anus.
The swelling began to cause her considerable pain and after another two days it was simply unbearable. As she was unable to drive due to recent surgery, the GP attended Veronica at home. He examined her and suggested there was a possible abscess on her left buttock near to her anus. He prescribed some antibiotics and told Veronica to return to the GP surgery if she did not notice any improvement.
Over the following days Veronica remained in agony. She was unable to sit down or put any pressure on her backside. She also felt very unwell and experienced hot and cold sweats, loss of sleep, and vomiting and diarrhoea. Consequently, during an appointment to have her stitches removed, Veronica asked the nurse to look at the abscess and the doctor was immediately called.
After examining her for a second time that week, the doctor admitted that the abscess was "a bit worse". He prescribed yet more antibiotics, but this did little to alleviate Veronica's symptoms. Within a couple of days she could not even stand, such was the pain. She phoned the out of hour's service at the GP surgery and she was advised to go straight to A&E.
In hospital, Veronica was seen immediately by a surgeon. She was informed that she had a severe perineal abscess that had led to necrotising fasciitis, a serious bacterial infection that causes the tissue to break down and die. She required two operations to drain the abscess and remove the necrotic tissue.
Veronica was left with a wound 4cm by 8cm, and 3cm in depth. This had to be packed and dressed daily for two months, something which was incredibly painful and distressing. During this time Veronica was unable to do anything for herself and had to rely upon a neighbour for assistance around the house.
She was also unable to work while the wound was healing, meaning she lost income. Although Veronica was able to return to work at a later date, she continues to have a large defect on her left buttock. This causes her ongoing pain and she is terrified the infection will return.
All these complications could have been avoided had Veronica's GP treated the abscess properly. Having tried antibiotics without success, he should have known that the next step was to drain the abscess. Had this occurred without delay, Veronica would not have developed necrotising fasciitis or required surgery.
We helped Veronica make a claim against the GP in question. She was awarded over £5,000 in compensation.
(Details which might identify our client have been changed.)
Would You Like Assistance from Specialist Necrotising Fasciitis Negligence Claims Solicitors?
If you would like to benefit from a service of excellence with total commitment to client care from a small and friendly team, Glynns are ready and waiting to help you.
Early legal assistance is essential. Please call us free on 0800 234 3300 (or from a mobile 01275 334030) or complete our Online Enquiry Form.

---