Necrotising Fasciitis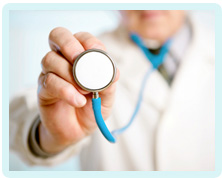 Necrotising Fasciitis in the Finger
Necrotising fasciitis can arise in any part of the body, including a finger. The infection must be quickly diagnosed and treated, otherwise the finger will have to be amputated.
If you have undergone an amputation because necrotising fasciitis was not acted upon in time, there may be a case of medical negligence. Get in touch with us at Glynns Solicitors to find out more.
Finger infection – necrotising fasciitis
Necrotising fasciitis is a type of soft tissue infection. It can be caused by different types of bacteria, but it is commonly attributed to the Group A Streptococcus bacteria.
Necrotising fasciitis can appear anywhere in the body. Usually the bacteria will enter the body through some sort of break in the skin, such as a surgical wound or traumatic injury. The fingers are therefore vulnerable to picking up an infection as they are always sustaining nicks and cuts. These can be as small as a paper cut or a graze.
If necrotising fasciitis does develop in the finger, it will not be long before the individual is acutely aware that something is wrong. The finger will be very painful, and there will not be an obvious cause for this pain. The finger will also be swollen and hot to touch, and will turn red in colour.
As the infection continues, these symptoms will become worse until the pain is unbearable. The individual will also feel unwell, and may display a high temperature, sickness and chills/shivering.
Finger amputation for necrotising fasciitis
Because it is such a fast-moving infection, necrotising fasciitis needs immediate treatment. The individual needs to be admitted to hospital and given intravenous antibiotics. He/she must then be taken to theatre for emergency surgery, where all the infected tissue will be removed.
If this treatment is not achieved quickly enough, the bacteria will spread and the tissue in the finger will die. The tissue death will increase the longer surgery is delayed. This means that if surgery is delayed for too long, the tissue death will be so great that the finger cannot be saved. Instead it will have to be amputated.
Having a finger amputated will be extremely distressing. It can even affect the patient's ability to work, carry out their hobbies and perform other day-to-day tasks.
Expert legal advice
If you have had a finger or limb amputated because of necrotising fasciitis and you believe delays in medical care are to blame, please get in touch with us at Glynns Solicitors. We specialise in necrotising fasciitis claims and will know whether you are entitled to compensation.
Contact us today
To make a necrotising fasciitis medical negligence compensation claim, please get in touch with us today.
Please call us free on 0800 234 3300 (or from a mobile 01275 334030) or complete our Online Enquiry Form.

---
Testimonials
"Before we contacted you we had no real idea that we had grounds for a medical negligence claim but after speaking to you if became clear that Wendy was indeed treated poorly. Chris took the time to explain what was happening and kept us to speed. Our deepest gratitude to you all and Chris in particular."
"I would like to say a big thank you to you for making this whole process easy and relatively painless. You kept me informed throughout and you were always polite and courteous in all forms of communication. I would not hesitate to recommend you to friends and family, so a really big thank you and I wish you all the best in the future."
» Read More Medical Negligence Testimonials?

Free Nectorising Fasciitis Guide