Necrotising Fasciitis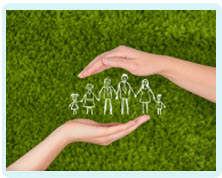 Misdiagnosis of Necrotising Fasciitis Symptoms
A necrotising soft-tissue infection can be life-threatening. A failure to prevent, where possible, or to diagnose and treat such an insidious condition may be regarded as negligent.
The destruction of necrotising fasciitis
The speed and competence with which treatment of necrotising fasciitis is commenced can be utterly crucial to the patient's outcome.
The long-term consequences of a delay in treating necrotising fasciitis can be shocking:
The patient may die as the infection destroys their tissue, causing multiple organ failure.
The patient may require a limb or hand to be amputated in order to halt the further spread of the infection and save their life.
The patient may suffer significant bowel problems if the infection has commenced in the abdomen or perineum as is often the case.
The patient will almost inevitably suffer deformity and scarring to some degree due to the nature of both the destructive illness and the destructive surgical treatment.
The patient may suffer significant long-term psychological distress as a result of their experience of necrotising fasciitis.
The long-term impact of a necrotising fasciitis infection, especially where diagnosis and treatment have been delayed can be life-changing in a wide variety of ways. Physically, the patient may suffer poor long-term health with a susceptibility to infection as well as the effects of their treatment. Practically, they may be unable to work and to function independently. Psychologically, they may struggle with anxiety, depression and loss of self-confidence.
Where medical negligence has been a factor in the patient's poor outcome, the sense of in justice and being let-down can be oppressive.
Whether the individual is attending their GP with the symptoms of necrotising fasciitis or they are in hospital undergoing treatment for another condition, it is absolutely vital that any symptoms of necrotising fasciitis are treated with the greatest caution. A failure to consider the possibility that a patient may be developing this appalling infection may prove fatal.
Speak to a solicitor
If you or a loved one are struggling with the shocking long-term impact of necrotising fasciitis where medical negligence has been a factor, contact Glynns Solicitors.
Specialists in medical negligence, we have considerable experience in supporting compensation claims for necrotising fasciitis and will be very happy to talk to you about your situation.
Contact us today to talk to one of our team.
Please call us free on 0800 234 3300 (or from a mobile 01275 334030) or complete our Online Enquiry Form.

---
Testimonials
"Before we contacted you we had no real idea that we had grounds for a medical negligence claim but after speaking to you if became clear that Wendy was indeed treated poorly. Chris took the time to explain what was happening and kept us to speed. Our deepest gratitude to you all and Chris in particular."
"I would like to say a big thank you to you for making this whole process easy and relatively painless. You kept me informed throughout and you were always polite and courteous in all forms of communication. I would not hesitate to recommend you to friends and family, so a really big thank you and I wish you all the best in the future."
» Read More Medical Negligence Testimonials?

Free Nectorising Fasciitis Guide