Necrotising Fasciitis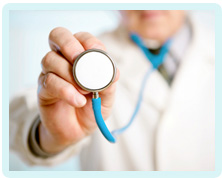 Necrotising Myositis
Necrotising myositis is a type of bacterial infection that affects the skeletal muscles. It is caused by the Streptococcus pyogenes, a type of bacteria that can also cause necrotising fasciitis, an infection that affects the deep tissues.
Symptoms of necrotising myositis
Necrotising myositis will cause a fever, a fast heartrate, and significant pain and swelling across the infected area. There may be visible changes to the skin such as redness and blisters, although these signs are often absent, causing confusion amongst medical practitioners.
Necrotising myositis investigations
When a patient presents with these symptoms, investigations to confirm a diagnosis must be initiated immediately. A blood test will show a raised white cell count, a raised C-reactive protein and increased creatine kinase concentration. A blood pressure check will reveal a low blood pressure.
These are all key indicators of infection. The absence of skin changes can be puzzling, but doctors should recognise that a patient has the signs of infection and deem exploratory surgery to be mandatory. This involves cutting open the area of skin and looking for evidence of necrosis. A finger test is also helpful here, whereby a finger is inserted into an incision. Minimal resistance of the tissue suggests an infection.
Necrotising myositis treatment
Necrotising myositis needs to be treated with intravenous fluids, debridement surgery, antibiotics and organ support if necessary. Debridement surgery is when all the infected tissue is cut away. An amputation may be needed to control the infection.
Necrotising myositis deaths
Necrotising myositis can be fatal. The patient stands the best chance of survival if their condition is diagnosed and treated quickly.
A delay in treatment will increase the possibility of mortality. This is because the patient can rapidly become septic, whereby infection leads to organ dysfunction. Action is therefore needed immediately, as a delay in surgery of just 24 hours can increase the risk of death.
On the other hand if necrotising myositis is treated in time, the patient can make a full recovery.
Delayed diagnosis and treatment of necrotising myositis
If medical errors result in the delayed diagnosis and treatment of necrotising myositis, there could be a case of medical negligence. If you would like to find out more about necrotising myositis and medical negligence, please get in touch with us at Glynns Solicitors.
We will advise whether the care you or your loved one received fell below an acceptable standard. If it is did, and we believe this adversely affected the outcome, there could be grounds for a compensation claim.
Legal advice
For more information on necrotizing fasciitis medical negligence, please get in touch with us today.
Please call us free on 0800 234 3300 (or from a mobile 01275 334030) or complete our Online Enquiry Form.

---
Testimonials
"Before we contacted you we had no real idea that we had grounds for a medical negligence claim but after speaking to you if became clear that Wendy was indeed treated poorly. Chris took the time to explain what was happening and kept us to speed. Our deepest gratitude to you all and Chris in particular."
"I would like to say a big thank you to you for making this whole process easy and relatively painless. You kept me informed throughout and you were always polite and courteous in all forms of communication. I would not hesitate to recommend you to friends and family, so a really big thank you and I wish you all the best in the future."
» Read More Medical Negligence Testimonials?

Free Nectorising Fasciitis Guide