Necrotising Fasciitis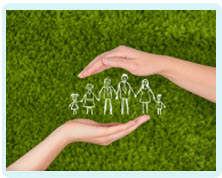 Necrotising Fasciitis Medical Negligence Compensation
Medical negligence in diagnosing, preventing and treating necrotising fasciitis can leave the patient with life-changing disability, if they survive at all. A successful compensation claim can help the victim to cope with some of their on-going problems.
What is necrotising fasciitis?
Necrotising fasciitis is a virulent infection which affects the deep soft tissue of the body, predominantly, but not exclusively, in the abdominal region and the limbs.
It usually develops when the causative bacteria, of which there are many types, enter the body through a cut to the skin, such as a surgical wound.
Necrotising fasciitis is a life-threatening infection and is, therefore, a medical emergency when a patient is thought to be developing this terrible illness. A patient will require surgical removal of the infection as well as antibiotics. They may also require life-support in a high-dependency unit whilst their body fights off the infection.
The infection is associated with a high mortality rate and early diagnosis and treatment are imperative if the patient is to survive.
What is the long-term impact of necrotising fasciitis?
A necrotising fasciitis infection will cause the destruction of all infected tissue, a process which will only continue as it spreads through the body. Any hope of stopping the advancement of this appalling attack is surgical debridement whereby all infected tissue is removed.
The outcome of this twin attack on the body can cause significant deformity and scarring. It can damage the function of the abdominal organs such as the bowel. It can even require the removal of a limb to prevent the spread of the infection.
A necrotising fasciitis infection can also trigger sepsis, threatening the patient with multiple organ failure and death.
Even when a patient survives, it is highly likely that their long-term health will have been severely compromised in some way. Their ability to work and to remain independent may well be limited, requiring support and restricting their income.
When does medical negligence occur in necrotising fasciitis?
Medical professionals may be regarded as having been negligent in a variety of scenarios relevant to necrotising fasciitis:
If a patient exhibiting the possible symptoms of necrotising fasciitis does not receive prompt investigation of their symptoms, they may suffer a worse long-term outcome than would otherwise have been the case. A patient who is suffering intense pain, redness and swelling in the region of a cut or abscess, perhaps alongside symptoms of breathlessness and shivers or a high temperature, may require immediate specialist intention. If they do not receive it, their medical practitioner may be regarded as negligent.
If an at-risk patient, such as someone with diabetes, does not receive prophylactic antibiotics prior to abdominal surgery, their medical practitioners may be regarded as having been negligent if the patient subsequently develops necrotising fasciitis.
If a patient who has been diagnosed with possible necrotising fasciitis suffers a delay in the commencement of treatment, allowing their condition and long-term outcome to deteriorate, their medical professionals may be seen as having been at fault.
If a poor level of care and hygiene in a medical setting is thought to have contributed to the patient developing necrotising fasciitis, the service in question may be regarded as having been negligent.
Case Studies
Two of our recent necrotising fasciitis cases illustrate the possible scenarios where medical negligence has left a patient to suffer long-term problems.
Case One
Our client underwent abdominal surgery for inflammatory bowel disease. Suffering with a weakened immune system, she was at risk of developing an infection. Following surgery, her condition began to deteriorate and it was thought that she might be developing sepsis. A blister on her thigh was considered to be possible cellulitis. It was not until fifteen days after her surgery that our client was finally diagnosed with necrotising fasciitis. Unfortunately, the delay in diagnosing her infection meant that our client has suffered significant long-term health problems and is now restricted in what she is able to do.
Case Two
When our client attended her GP with an abscess on the thigh, she was sent home with antibiotics rather than arranging to have the abscess drained. Unfortunately, our client quickly deteriorated to the point where she felt she had to attend hospital. Once there she suffered a further delay of 24 hours before treatment for sepsis and necrotising fasciitis. By this time, our client was suffering multiple organ failure. Luckily she survived, but, as well as severe scarring, our client suffered significant sight loss.
Making a compensation claim
If you are thinking about making a claim for compensation for poor quality treatment of necrotising fasciitis, you will need the support of a specialist medical negligence solicitor.
Here at Glynns Solicitors we have supported numerous clients whose lives have been devastated by the ravages of necrotising fasciitis due to failings by medical professionals.
Contact us today to talk to one of our specialist lawyers about your situation and the possibility of making a claim for compensation.
Please call us free on 0800 234 3300 (or from a mobile 01275 334030) or complete our Online Enquiry Form.

---
Testimonials
"Before we contacted you we had no real idea that we had grounds for a medical negligence claim but after speaking to you if became clear that Wendy was indeed treated poorly. Chris took the time to explain what was happening and kept us to speed. Our deepest gratitude to you all and Chris in particular."
"I would like to say a big thank you to you for making this whole process easy and relatively painless. You kept me informed throughout and you were always polite and courteous in all forms of communication. I would not hesitate to recommend you to friends and family, so a really big thank you and I wish you all the best in the future."
» Read More Medical Negligence Testimonials?

Free Nectorising Fasciitis Guide