Necrotising Fasciitis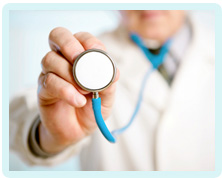 Necrotising Fasciitis in the Face
Necrotising fasciitis can arise anywhere in the body, including the face. If the condition is not treated quickly enough, the patient risks losing a lot of tissue from their face, as well as significant scarring.
If your necrotising fasciitis was not diagnosed and treated in time, please get in touch with us to discuss making a medical negligence compensation claim.
Necrotising fasciitis face
Necrotising fasciitis is a bacterial infection that commonly begins after the skin has suffered some form of trauma. This is because the bacteria need to find a way to enter the body, and a break in the skin offers them this opportunity. Therefore someone who develops necrotising fasciitis in the face has often had a recent history of facial trauma – be it surgery, a fall or a cut.
Bacteria can also get into the body through certain areas such as the eyes and nose, as they are more exposed than other parts of the body.
Diagnosing necrotising fasciitis in the face
When the face becomes infected with necrotising fasciitis, the area will be inexplicably painful. Even if there is a recent history of trauma, the pain will be disproportionate to the injury that has been sustained.
The skin will look very red and angry. The tissue will become swollen and blisters can appear on the surface of the skin. Necrotising fasciitis causes the tissue to break down, so the skin will soon begin to change colour as the process of necrosis (tissue death) takes place. At first it will become dark red before turning dark purple/black in colour.
Necrotising fasciitis will also make the patient feel very unwell with a fever.
These symptoms should lead medical practitioners to suspect a soft tissue infection. Further investigations can then clarify the precise nature of the infection. This means that even if medical practitioners do not immediately consider necrotising fasciitis, the diagnosis of a soft tissue infection will quickly lead them to the correct diagnosis.
Treating necrotising fasciitis in the face
The investigation of choice should be exploratory surgery. This enables medical practitioners to see underneath the skin. The presence of necrotic tissue will verify necrotising fasciitis. Swabs can be sent to the laboratory for the sake of certainty. The advantage of exploratory surgery is that the medical team can proceed straight to surgical debridement.
Surgical debridement is how you treat necrotising fasciitis, along with intravenous antibiotics. All of the infected tissue must be surgically removed, or the patient will not be cured of the condition.
Failure to treat face necrotising fasciitis
If there is a delay in diagnosing and treating necrotising fasciitis in the face, the patient stands to lose a substantial amount of skin from their face. If the eye is infected, he/she could suffer a loss of sight.
Extensive tissue loss from the face will of course be devastating for the patient, and there can be severe defects and scarring. Reconstructive surgery may improve the aesthetic appearance to a degree, but ultimately the effects of necrotising fasciitis in the face can be terrible.
If a patient suffers such injuries because medical practitioners failed to diagnose and treat the condition in time, there could be grounds for a medical negligence claim.
What is a delay in treatment?
Necrotising fasciitis does move very quickly and it is often described as an 'aggressive' infection.
Sometimes a patient will only visit a medical setting in the later stages of the condition, by which stage a considerable amount of tissue death has already occurred. If medical practitioners immediately proceed to perform surgical debridement, they cannot be blamed for the outcome, even if the outcome is poor.
However, if a patient seeks medical attention but there are delays in the diagnosis and treatment, there may be a case of negligence. It is difficult to say exactly what constitutes a delay. But if medical practitioners missed opportunities to treat a patient at an earlier stage, causing them to suffer an increased amount of tissue death (which would have been avoided with treatment), there could be a case.
What should I do?
If you think you have been the victim of necrotising fasciitis negligence, or you think your loved one has, you need to speak to a solicitor. More specifically, you need to speak to a medical negligence solicitor (also called a clinical negligence solicitor) who has experience in necrotising fasciitis claims.
Necrotising fasciitis is a rare condition, with only around 500 new cases in the UK every year. This means that not all solicitors will have handled a necrotising fasciitis claim, as it is not a common source of litigation. Having a solicitor who understands the condition is essential, as it will give your claim the best chance of success.
You also need to speak to a solicitor as soon as you can. Medical negligence claims must be made within three years of the event. This does sound like a long time, but there are certain steps that must be fulfilled during the course of a claim, and this can hold the process up.
Will a claim cost me money?
The cost of a claim is a considerable concern for many potential claimants. We offer a number of funding solutions, with the majority of our claims run on a no win no fee basis. This is a very popular agreement because it means your solicitor will not get paid if you lose your claim. An insurance policy will cover the cost of any other expenses. If you win, your solicitor is entitled to claim a success fee which is often deducted from a compensation settlement. You will not have any other costs to pay.
We also offer a free initial enquiry, so you can obtain free legal advice from a solicitor. If we suggest that you are able to pursue a medical negligence claim, and you would like to proceed, we can organise a funding agreement and begin the claims process.
Contact us today
To make a necrotising fasciitis medical negligence compensation claim, please get in touch with us today.
Please call us free on 0800 234 3300 (or from a mobile 01275 334030) or complete our Online Enquiry Form.

---