Necrotising Fasciitis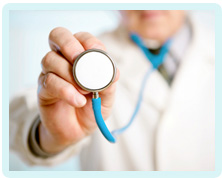 Necrotising Fasciitis in the Breast Tissue
Necrotising fasciitis in the breast is an unusual occurrence, but it can happen. The infection must be diagnosed and treated quickly, or the patient faces the removal of the breast, as well as life-threatening complications.
If you or your loved one developed necrotising fasciitis which was not immediately diagnosed and treated, there could be a case of medical negligence. Please get in touch with us to find out more.
Necrotising fasciitis in the breast
Necrotising fasciitis is a severe bacterial infection. It can arise anywhere in the body, although it is uncommon for it to affect breast tissue, particularly in healthy young women. Nevertheless, there are examples throughout medical literature of women developing necrotising fasciitis in the breast, so it is certainly not unheard of.
When necrotising fasciitis develops in the breast, it will make the area very sore. This pain will have no obvious cause, although there may be some form of injury visible, such as a scratch or cut. The pain will be extreme and may prevent the individual from raising her arm on the affected side of the body.
In addition to the pain, the patient will feel very unwell, and may have a high temperature, vomiting and diarrhoea. The breast will also be swollen and will seem larger in size.
As the infection progresses, the skin will start to change colour, with red/purple/black patches developing. Blisters can also appear and fluid may ooze from the nipple or other opening.
Diagnosing necrotising fasciitis in the breast
The symptoms of necrotising fasciitis can vary slightly from person to person. However, the key signs of necrotising fasciitis in the breast are:
Breast abnormality, with a swollen and tender breast
Extreme pain in the breast with no apparent cause
Fever
A patient who presents with these symptoms should be suspected of having an infection. Other causes that are just related to pain – such as a pulled chest muscle – can be ruled out due to the presence of a fever (a key indicator of infection). Other potential diagnoses such as a pulmonary embolism can also be ruled out with routine tests that will show the patient is seriously unwell with an infection.
These tests include a blood test, blood pressure test, checking the respiratory rate and checking the heart rate. Someone with necrotising fasciitis will have:
Elevated glucose, lactate, CRP and white blood cell count in the blood
A raised heart rate
A raised respiratory rate
Low blood pressure
If a patient is showing these clinical signs, an infection must be strongly suspected and emergency exploratory surgery arranged. This means that a patient must be taken to theatre without delay, even if it means jumping in front of other non-emergency operations that have already been scheduled.
Exploratory surgery will involve cutting open the breast tissue to check for signs of necrotic tissue. If so, the infected tissue must be cut away, after which the patient will require specialist medical support – either in the Intensive Care Unit or High Dependency Unit.
Delay in diagnosing necrotising fasciitis in the breast
If there is a delay in diagnosing necrotising fasciitis, the bacteria causing the infection will reproduce, spreading further across the breast tissue. By the time surgical treatment is eventually given, it may be that so much of the breast is infected that it has to be removed. This is known medically as a mastectomy. Sometimes the nipple can be saved, but if tissue death is extensive this may not be possible.
Having a breast removed will of course be extremely traumatic for the patient, especially younger patients. Skin grafts and plastic reconstruction may be considered to improve the aesthetic appearance.
In addition to the loss of a breast, a delay in treatment puts the patient at risk of life-threatening complications. The longer the bacteria remain inside the body, the greater the chance that they will spread to the bloodstream. This will trigger a condition called sepsis, which is associated with organ failure. The patient's life will be in danger and even if she does survive, the recovery process can be long and difficult.
Why would there be a delay in diagnosis?
Necrotising fasciitis is a relatively rare illness and may not be at the forefront of doctors' minds when the patient first presents. Even so, tests should soon rule out other conditions, while the presence of a fever, swollen tissue and unexplained pain should lead doctors to suspect an infection. This should quickly result in exploratory surgery and debridement.
Therefore doctors should take heed of the patient's symptoms, clinical test results and deteriorating condition. With these things taken into consideration, a reasonably competent medical practitioner would suspect necrotising fasciitis – or some form of soft tissue infection – and organise emergency surgery.
If necrotising fasciitis is not diagnosed and treated in a reasonable amount of time, causing the patient to suffer complications such as a mastectomy and sepsis, there could be a case of medical negligence. This would entitle the patient, or their family, to pursue a claim for compensation.
Necrotising fasciitis compensation claims
Necrotising fasciitis is not common, so if you are thinking about pursuing a necrotising fasciitis claim, you need to speak to a solicitor who understands the condition.
At Glynns Solicitors we have dealt with a number of necrotising fasciitis claims, successfully obtaining compensation for the victim or their loved ones. If you would like to speak to a solicitor about making a claim, please get in touch with today. We will put you through to a legal expert who will listen to the details of the case before advising whether there are grounds for a claim.
All our initial enquiries are free of charge, so you can obtain professional legal advice without having to worry about the cost. If you would like to proceed with the claims process we have different funding options available, including no win no fee agreements. We will explain these in greater detail, should you wish to make a medical compensation claim.
Legal advice
For more information on necrotizing fasciitis medical negligence, please get in touch with us today.
Please call us free on 0800 234 3300 (or from a mobile 01275 334030) or complete our Online Enquiry Form.

---