Necrotising Fasciitis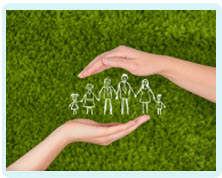 Necrotising Fasciitis Hospital Negligence
Patients in hospital undergoing surgical procedures are vulnerable to developing necrotising fasciitis and substandard treatment can increase the likelihood of this appalling outcome.
Developing necrotising fasciitis
Necrotising fasciitis is a life-threatening infection where bacteria normally present outside the body gain access to the deep, soft tissue and cause all infected tissue to decay. This can threaten the functioning of the major organs and the life of the patient.
The bacteria associated with necrotising fasciitis require a portal to get inside the body and a surgical wound can provide just such a point of entry.
Patients undergoing surgical procedures therefore require a high standard of care.
In our experience, however, failings in the quality of care provided at varying stages of the patient's hospital experience have facilitated the development of this appalling illness.
Failure to provide prophylactic antibiotics
Certain categories of patient, such as the elderly or those with diabetes, are particularly vulnerable to developing an infection as a result of surgery and may require antibiotics prior to their surgery to try to reduce the chance of this happening.
A failure to provide prophylactic antibiotics where it would generally be considered to be an advisable course of action, might be regarded as substandard care and could justify a claim for compensation should the patient subsequently develop necrotising fasciitis.
Poor Post-operative Care
Patients recovering from surgery and other invasive procedures require close attention, high levels of hygiene provision and immediate investigation should signs of an infection develop.
Poor quality care and poor hygiene can increase the chances of the patient developing necrotising fasciitis.
A failure to seek expert advice if a patient develops symptoms of infection may be considered to constitute substandard care.
Failure to diagnose necrotising fasciitis
Treating necrotising fasciitis is a medical emergency. This appalling infection can travel through the body at shocking speed and cause organ failure and death within days.
Any patient suspected of developing this illness needs immediate investigation and a failure to recognise the possible implications of a patient's symptoms or to consider and investigate the possibility of necrotising fasciitis may be regarded as substandard care.
Negligence in A & E
We have supported a number of compensation claims for patients whose necrotising fasciitis symptoms have not been recognised or investigated in Accident & Emergency units.
Where a patient attends A & E with the possible symptoms of necrotising fasciitis, such as intense pain, redness and swelling around the area of a wound to the skin, the possibility that they are developing necrotising fasciitis should be considered.
If the patient is discharged without a thorough investigation, the delay in treatment could well threaten their life and, at best, is likely to mean that their long-term outcome may be significantly worse than had they received immediate treatment on their first attendance at A & E.
Speak to a solicitor
If you or a loved one are suffering with the debilitating, long-term symptoms of necrotising fasciitis due to a failing in your medical care, contact us today.
One of our specialist medical negligence solicitors will be happy to discuss your experience with you and advise as to the suitability of making a compensation claim.
Please call us free on 0800 234 3300 (or from a mobile 01275 334030) or complete our Online Enquiry Form.

---
Testimonials
"Before we contacted you we had no real idea that we had grounds for a medical negligence claim but after speaking to you if became clear that Wendy was indeed treated poorly. Chris took the time to explain what was happening and kept us to speed. Our deepest gratitude to you all and Chris in particular."
"I would like to say a big thank you to you for making this whole process easy and relatively painless. You kept me informed throughout and you were always polite and courteous in all forms of communication. I would not hesitate to recommend you to friends and family, so a really big thank you and I wish you all the best in the future."
» Read More Medical Negligence Testimonials?

Free Nectorising Fasciitis Guide