Necrotising Fasciitis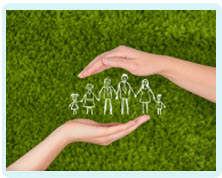 Necrotising Fasciitis GP Negligence
Necrotising fasciitis is a fairly rare illness in the UK with only approximately 500 cases being diagnosed each year. A failure to recognise this horrific infection can be fatal, however, and any doubt as to a diagnosis should warrant a second opinion.
Symptoms of necrotising fasciitis
The early symptoms of necrotising fasciitis may not be familiar to many GPs and might tempt them to a misdiagnosis.
The symptoms of necrotising fasciitis can include the following:
Intense pain and swelling in the leg or buttocks, for example,

redness and tenderness in that region
there may be a wound, such as a cut, a pressure sore, an injection site or an abscess which might allow bacteria to enter the body

The patient might also be exhibiting flu-like symptoms such as a high temperature or chills, a fast heartbeat and nausea and vomiting.
Diagnosis or misdiagnosis?
Such symptoms might lead a GP to consider a diagnosis of deep vein thrombosis, cellulitis or sciatica but a failure to investigate other possibilities might be considered as negligent where those diagnoses do not necessarily provide an adequate answer.
Necrotising fasciitis most frequently emerges around the abdominal region or in the extremities and this should act as a further indicator to any medical professional that the patient might be developing this appalling illness.
The possible severity of this infection and its potential to take the life of the patient should ensure that any possibility of it is thoroughly and completely ruled out.
If a GP is uncertain as to the diagnosis of a patient's symptoms where pain in the extremities is accompanied by signs of infection, a second opinion should be sought as a matter of emergency.
Blood tests may be required urgently or an exploratory surgical procedure might be necessary in order to rule out the possibility of a necrotising infection. Should the patient, in fact, be developing necrotising fasciitis, debridement surgery is required as a matter of emergency to remove all infected tissue. The greater a delay, the greater the area of tissue which will need to be removed and the greater the long-term damage to the patient.
A delay of a couple of days could prove fatal at worst but, even when the patient survives, the long-term impact of a delayed diagnosis can end with scarring, deformity and even an amputation.
Speak to a solicitor
If you or a loved one are suffering the long-term effects of a failure to diagnose necrotising fasciitis in a timely manner, it might be appropriate to make a claim for compensation.
Contact Glynns Solicitors today to talk to a specialist medical negligence solicitor with expertise in the appalling condition.
Please call us free on 0800 234 3300 (or from a mobile 01275 334030) or complete our Online Enquiry Form.

---
Testimonials
"Before we contacted you we had no real idea that we had grounds for a medical negligence claim but after speaking to you if became clear that Wendy was indeed treated poorly. Chris took the time to explain what was happening and kept us to speed. Our deepest gratitude to you all and Chris in particular."
"I would like to say a big thank you to you for making this whole process easy and relatively painless. You kept me informed throughout and you were always polite and courteous in all forms of communication. I would not hesitate to recommend you to friends and family, so a really big thank you and I wish you all the best in the future."
» Read More Medical Negligence Testimonials?

Free Nectorising Fasciitis Guide