Necrotising Fasciitis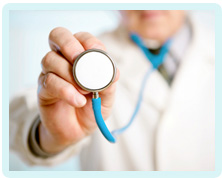 Necrotising Fasciitis Early Signs
It is important that necrotising fasciitis is diagnosed during the early stages. For this to happen, medical practitioners must recognise the early signs of the condition.
What are the early signs of necrotising fasciitis?
The early signs of necrotising fasciitis are:
An area of skin that is extremely painful, but there is no obvious cause for the pain/the pain is disproportionate to the injury present
The same area of skin is red, swollen and hot to touch
Fever, with a high temperature, chills and shivering
Generally feeling unwell
These symptoms are relatively vague and also mimic other, less serious conditions such as cellulitis. Therefore it is often said that necrotising fasciitis is difficult to diagnose in the early stages.
However, a patient complaining of fever with tissue pain is showing the characteristic symptoms of soft tissue infection. There are different types of soft tissue infection, one of which is necrotising fasciitis. As long as a medical practitioner suspects a soft tissue infection based upon a patient's symptoms and orders further tests, it should not take long for an accurate diagnosis to be obtained.
Advanced signs of necrotising fasciitis
Even if necrotising fasciitis is not particularly obvious in the early stages, it should be in the later stages of the condition. The appearance of the skin is particularly notable, as it will turn dark red/purple/black in colour. There may also be pus-filled blisters. An open sore will start to develop once the dead tissue falls away.
All these symptoms will become increasingly severe, the longer the patient goes without treatment. By the very advanced stages, it will be very obvious that a patient has a soft tissue infection as it will appear as though their flesh is being eaten – which is why necrotising fasciitis is often dubbed 'the flesh-eating disease'.
Failure to act upon necrotising fasciitis early signs
If medical practitioners fail to act upon the early signs of necrotising fasciitis, causing a patient to fall seriously unwell due to a delay in treatment, there could be grounds for a medical negligence claim.
If you or your loved one has suffered the delayed diagnosis and treatment of necrotising fasciitis, please get in touch with our team of medical negligence solicitors. We specialise in medical negligence claims and have particular knowledge of necrotising fasciitis claims.
We offer everyone a free initial enquiry, so you can obtain expert legal advice free of charge and free of obligation.
Free Enquiry
If you believe that you or a member of your family have been infected, please contact us for early legal advice. All initial enquiries are completely free of charge.
Please call us free on 0800 234 3300 (or from a mobile 01275 334030) or complete our Online Enquiry Form.

---