Necrotising Fasciitis Cases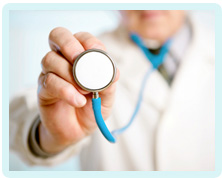 Necrotising Fasciitis Develops in C-Section Wound
After having a Caesarean section, Rosa's scar became infected with necrotising fasciitis. Delays in diagnosis and treatment meant that she nearly lost her life.
After an emergency Caesarean section, Rosa's stomach was very sore and remained painful when she was discharged home two days later. A midwife visited the next day and told Rosa to use a maternity pad as a dressing.
A midwife came again the following day and thought the C-section scar might be infected. A GP was asked to attend Rosa at home and he prescribed antibiotics. He later called and decided to change the prescription to a different antibiotic, having recently spoken to a microbiologist.
By this stage the wound had begun to emit a foul odour. It was also weeping bloody fluid and was excruciatingly painful. But it was another day later when a different midwife attended Rosa that she was told to go straight back to hospital.
Rosa was not informed what was wrong with her but was simply advised that she would be transferred to a different hospital the following day. Once there, she was finally told by a senior consultant that she had an infection called necrotising fasciitis and was taken immediately for surgery.
Rosa's family were not kept informed and it was only when Rosa's father called the hospital that evening that they discovered she was in intensive care. She had had debridement surgery and was still unconscious.
Rosa had a further three operations to remove the dead tissue over the following two days. She had a hole in her stomach the size of a fist and a machine was attached to her tummy to aid the healing process.
She was finally discharged from hospital almost a month later. She was extremely ill during her stay in hospital, both with necrotising fasciitis and pulmonary embolisms. Rosa came very close to losing her life.
She had a long recovery process and has been left with a 14 inch scar running from hip to hip.
Her lungs have been scarred by the pulmonary embolisms and she now has trouble breathing. As a result of all these complications Rosa remained virtually bed-bound for a long time and could do very little for herself.
Had Rosa's necrotising fasciitis infection been diagnosed and treated earlier, she would have undergone minimal surgery and would not have become so gravely unwell. We helped Rosa pursue a claim for the negligent medical care she received from the midwives and the hospital in which she gave birth.
Rosa was awarded in excess of £45,000 in compensation.
(Details which might identify our client have been changed.)
Would You Like Assistance from Specialist Necrotising Fasciitis Negligence Claims Solicitors?
If you would like to benefit from a service of excellence with total commitment to client care from a small and friendly team, Glynns are ready and waiting to help you.
Early legal assistance is essential. Please call us free on 0800 234 3300 (or from a mobile 01275 334030) or complete our Online Enquiry Form.

---