Necrotising Fasciitis Cases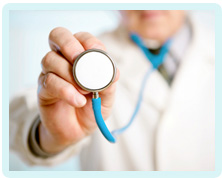 Severe Necrotising Fasciitis
Amanda began to experience extreme pain in her coccyx. She attended A&E, but was sent home without being fully examined. Soon after, her condition rapidly deteriorated.
In April 2005, cabin crew manager Amanda began to experience pain in her coccyx, which gradually spread to her buttocks. Three days later the pain was so severe she could neither sit nor stand, and on 16 April she was taken to A&E in an ambulance. She was seen by a doctor, who took Amanda's blood pressure and pulse but failed to carry out an examination of her buttocks. She was diagnosed with musculo-skeletal pain, prescribed analgesia and discharged.
Over the next two days Amanda remained in severe pain and was only able to lie on her front. By 19 April her right buttock was very swollen and was red in colour. Once again Amanda was aware she needed medical attention, and returned to A&E. A doctor took her blood pressure which was found to be very low, and also examined her buttocks. Amanda was told she was simply constipated, was given laxatives and sent home. No mention of her low blood pressure was made, nor did the doctor explain why there was such a marked difference between her right and left buttock in terms of size and colour. Amanda felt ridiculed by the doctor, who had written on her medical notes: 'sent home once again!!!'
On 21 April she attended a chiropractor appointment which a friend had arranged on Amanda's behalf. She was so unwell, however, she was immediately rushed into hospital. Amanda was then finally diagnosed with a perineal ulcer which had turned into Necrotising Fasciitis - a flesh eating bacteria that kills the tissue if treatment is not promptly carried out. Amanda was induced into a coma and had three operations to remove the dead tissue. She had a large amount of tissue on her right buttock and right thigh excised, so much so that it was possible to see her spine and right femur. She was then transferred to the Intensive Care Unit as she was suffering from septic shock.
Post-operatively Amanda made a slow recovery. Doctors were unsure whether she would be able to walk again, and for nearly three months she remained on a vacuum machine to help her flesh pull back together. She was fitted with a loop colostomy which stayed in place for nearly a year, and during this time she was unable to work, carry out any household chores, or even leave the house. A District Nurse would visit her at home every day to change the dressings on her wounds.
The medical staff who attended Amanda on her third visit were shocked that she had previously been sent home. In particular, the doctor who noted Amanda's abnormal pulse and blood pressure on her second visit should have recognised this suggested septic shock - a symptom of Necrotising Fasciitis. Had Amanda been diagnosed in a timely fashion, her illness and the extreme level of surgical debridement could have been avoided.
Unfortunately, however, Amanda's condition was continually misdiagnosed. Because Necrotising Fasciitis spreads rapidly, this delay had devastating affects on Amanda's well-being. Not only does she have unsightly scars from the loop colostomy and a buttock deformity because of the debridement, she also suffered psychologically. She feels very self-conscious about her scars, suffers anxiety and panic attacks, and has lost all confidence in herself. This has led to her feeling increasingly depressed, and she has been suicidal on several occasions. Furthermore, Amanda continues to have urine incontinence, faecal urgency, and pain in her perineum. As a result she is unable to have sex, which eventually caused her relationship with her partner to break down.
At just 30 years old, Amanda feels her life has been drastically altered due to the hospital's negligence. The delay in diagnosing Necrotising Fasciitis has caused her extreme pain and suffering - both physically and psychologically. After seeking the opinion of a colorectal expert, a plastic surgeon and a microbiologist, Glynns found that a breach of duty had indeed caused Amanda's injuries. There was a delay in diagnosis, which in turn caused Amanda to develop severe Necrotising Fasciitis. We helped Amanda file a clinical negligence claim, which was settled for £125,000.
Need Advice About Necrotising Fasciitis?
If you believe that you or a member of your family have been infected, please contact us for early legal advice. All initial enquiries are completely free of charge.
Please call us free on 0800 234 3300 (or from a mobile 01275 334030) or complete our Online Enquiry Form.

---