Necrotising Fasciitis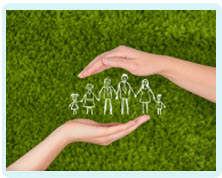 Necrotising Fasciitis and Abdominal Surgery Negligence
Abdominal surgery is a risk factor for the development of necrotising fasciitis. Where medical mismanagement of abdominal surgery allows the patient to suffer this appalling infection, it may be appropriate to make a claim for compensation.
Necrotising fasciitis
Necrotising fasciitis is an extremely unpleasant soft-tissue infection. It has a high mortality rate and, even where the patient survives, its impact can be permanent with the patient suffering long-term ill-health including scarring, deformity, psychological distress and even the loss of a limb.
Prompted by bacteria which has found its way to the body's deep-soft tissue, it starts to cause the destruction of all the tissue it reaches. In order to give the patient a chance of survival, all infected tissue has to be surgically removed, a solution which can be almost as devastating as the infection itself.
Abdominal surgery and necrotising fasciitis
Necrotising fasciitis most frequently commences in the abdominal region, in the limbs or around the perineum and genitals.
Consequently, there is a very wide variety of surgical procedures which, if inappropriately managed, can leave the patient vulnerable to acquiring this infection.
An injection site or surgical incision can give the relevant bacteria, of which there are many, an opportunity to access the patient's deep soft tissue where it will start to cause tissue decay or necrosis.
Unfortunately, abdominal surgery is very common and the following procedures, amongst others, can pose a threat of infection to the patient:
A caesarean section
A hysterectomy
A cholecystectomy (gallbladder removal)
Surgery for digestive disorders
An appendectomy to remove the appendix
Prophylactic antibiotics
Patients due to undergo surgery should also undergo an assessment of their infection risk. Where appropriate, they should be given antibiotics prior to surgery in order to minimise the risk of infection.
Where this does not happen, the relevant medical practitioners may be regarded as having acted negligently. If the patient subsequently develops an infection and suffers significant long-term problems as a result, the patient may be entitled to make a claim for compensation. A successful compensation claim can provide recompense for the patient's pain, suffering and financial losses where they are associated with the outcome of the negligence.
At-risk patients
Patients who might be considered to be at risk of infection during surgery would include the very young, the very elderly, those with a weakened immune system such as someone with diabetes and those with long-term chronic health conditions.
Patients with pre-existing liver and heart conditions also seem to be susceptible to developing this appalling illness.
Patient management
Meticulous post-operative management of surgical patients is fundamental to ensuring that any signs of infection are investigated thoroughly.
A failure to take action when the patient exhibits symptoms which might suggest that a necrotising fasciitis infection has taken hold may be regarded as substandard care and may justify a claim for compensation.
Get specialist advice
If you or a loved one are considering making a claim for compensation for negligent necrotising fasciitis, you need the advice of a specialist solicitor.
Glynns Solicitors is a clinical negligence legal practice and all our lawyers are specialists in this field.
Furthermore, we have supported numerous clients who have suffered long-term effects of negligence relating to necrotising fasciitis and we will be very happy to discuss your situation and advise as to the best way forward.
Please call us free on 0800 234 3300 (or from a mobile 01275 334030) or complete our Online Enquiry Form.

---