Necrotising Fasciitis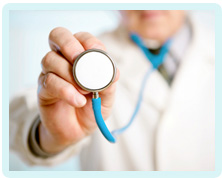 Necrotising Fasciitis After Hysterectomy
If you developed necrotising fasciitis after undergoing a hysterectomy, it is possible that you were not given antibiotics before the procedure. If medical practitioners failed to administer antibiotics before surgery, leaving you vulnerable to infection, there could be grounds for a medical negligence claim.
For more information on claiming compensation for necrotising fasciitis after a hysterectomy, please get in touch with us at Glynns Solicitors. We specialise in medical negligence claims and offer a free initial enquiry.
Antibiotics before gynaecological surgery
If there is a significant risk that a patient will develop a post-surgical infection, antibiotics must be administered before the operation. This is called administering 'prophylactic antibiotics'. Prophylactic means preventative.
Not all patients will be given prophylactic antibiotics before a procedure. It should only be given if a patient is already displaying signs of infection but must undergo the operation, or if the procedure is known to carry a high risk of post-surgical infection.
For instance, abdominal and gynaecological operations require antibiotic prophylaxis. This is because the abdomen contains a large number of bacteria, which if disturbed by surgery can readily lead to an infection. The same is true of gynaecological surgery, with bacterial vaginosis being a common cause of surgical site infection.
Antibiotics before hysterectomy
To prevent an infection developing after gynaecological surgery – such as a hysterectomy – it is necessary to administer a dose of antibiotics 15 to 60 minutes before the operation. Antibiotics before a vaginal or abdominal hysterectomy is especially important.
Normally the antibiotic of choice is Cephalosporin, but others can be considered if the patient has an allergy to this type of medication. One dose is usually sufficient to avoid a surgical site infection. But if the operation continues for more than three hours, or there is a lot of blood loss, a further dose may be required.
Clinical trials have proven the worth of prophylactic antibiotics before hysterectomy, having shown to decrease the amount of time a patient remains in hospital after the procedure. It has also been found that prophylactic antibiotics decrease the mortality rate from post-hysterectomy infection.
Failure to administer antibiotics before hysterectomy
If medical practitioner do not administer antibiotics before a vaginal or abdominal hysterectomy, the standard of care could be considered poor. If the lack of antibiotics causes a patient to develop a post-surgical infection, there could be a case of medical negligence.
Necrotising fasciitis after hysterectomy
There are many different types of infection that can arise after a hysterectomy. One that commonly leads to a litigation claim is necrotising fasciitis.
Necrotising fasciitis is described as a 'rare' condition, with Public Health England estimating there are 500 new cases in England every year. It is a particularly nasty infection as it causes the soft tissues to die. This will leave a deformity with scarring in its place. Necrotising fasciitis can also be fatal because the bacteria can easily get into the bloodstream. The bacteria will then travel to the organs, prompting multi-system organ failure.
Therefore it is vital that necrotising fasciitis is quickly diagnosed and treated, should it develop after a hysterectomy.
Recognising necrotising fasciitis
If a patient does develop necrotising fasciitis after a hysterectomy, she will experience severe pain at the site of infection and a foul-smelling discharge. There will also be the clinical signs of infection, such as a fever, and skin that is red and hot to touch.
Medical practitioners should recognise the signs of infection and become immediately concerned. Under no circumstances should a patient be discharged while suffering the characteristic symptoms of infection – especially if she has just undergone a hysterectomy, which is known to have a high risk of infection.
Measures should be taken to diagnose the infection and antibiotics given without delay. With necrotising fasciitis, surgical debridement of the infected tissue is also needed. This operation is an emergency and may be carried out before the laboratory results are confirmed.
The need for surgical debridement will be indicated by the fact the skin has changed colour to dark red/purple. There will also be signs of necrosis once the skin is opened up during surgery. Thus the need for debridement can be determined by the patient's symptoms, and doctors should not wait for the test results if necrotising fasciitis is suspected, because time is of the essence.
Failure to diagnose necrotising fasciitis
Unfortunately there are examples of patients developing necrotising fasciitis after a hysterectomy, yet medical practitioner fail to raise any concerns and discharge the patient home.
This will be very dangerous as necrotising fasciitis is an aggressive infection. The patient will soon become critically unwell and will certainly need to return to hospital within hours. Extensive surgery will then be required, leaving scarring and deformities. Because of the fast-moving nature of necrotising fasciitis, the extent of surgery would have been significantly minimised with an earlier diagnosis.
The debridement surgery may be so severe that cosmetic reconstruction is necessary. The patient may also suffer ongoing pain and a severe adjustment disorder.
Can I claim compensation for necrotising fasciitis after hysterectomy?
If you developed necrotising fasciitis after a hysterectomy because you were not given prophylactic antibiotics, and/or you developed necrotising fasciitis after a hysterectomy but it was not diagnosed quickly, there could be grounds for a compensation claim.
Specifically, the hospital will be deemed negligent if there was a failure to:
Administer prophylactic antibiotics before a hysterectomy
Recognise the clinical signs of infection before discharging a patient
Diagnose and treat a necrotising fasciitis infection in a reasonable amount of time
With regards to the failure to provide prophylactic antibiotics, it will be possible to argue that but for this failing, the patient would not have developed necrotising fasciitis.
With regards to the failure to diagnose and treat, it will be possible to argue that an earlier diagnosis would have meant earlier treatment, thereby minimising the patient's injuries.
Medical negligence solicitors
To find out if you can claim compensation for necrotising fasciitis after a hysterectomy, please get in touch with us today. We will advise whether you have grounds for a claim.
Need Advice About Necrotising Fasciitis?
If you believe that you or a member of your family have been infected, please contact us for early legal advice. All initial enquiries are completely free of charge.
Please call us free on 0800 234 3300 (or from a mobile 01275 334030) or complete our Online Enquiry Form.

---
Testimonials
"Before we contacted you we had no real idea that we had grounds for a medical negligence claim but after speaking to you if became clear that Wendy was indeed treated poorly. Chris took the time to explain what was happening and kept us to speed. Our deepest gratitude to you all and Chris in particular."
"I would like to say a big thank you to you for making this whole process easy and relatively painless. You kept me informed throughout and you were always polite and courteous in all forms of communication. I would not hesitate to recommend you to friends and family, so a really big thank you and I wish you all the best in the future."
» Read More Medical Negligence Testimonials?

Free Nectorising Fasciitis Guide