Necrotising Fasciitis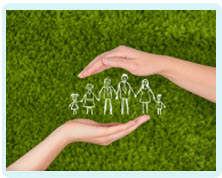 Necrotising Fasciitis After a Hernia Operation
A hernia operation may seem like a fairly straightforward procedure but an open wound can lead to a destructive, life-threatening condition.
Necrotising Fasciitis
Necrotising fasciitis is caused when one or a combination of bacteria infect the deep tissue layers of the body. The toxins released by the bacteria infect and destroy the body's tissue. The infection can spread at an alarming rate, threatening the patient's life-support systems and major organs. If untreated, the patient is likely to die.
As it most frequently occurs in the abdomen or lower limbs, abdominal surgery puts a patient at risk of acquiring this devastating infection. Whether through open surgery or keyhole surgery, a hernia operation is an ideal opportunity for the bacteria to enter the body.
Treatment is a matter of emergency as any delay is likely to result in a poorer outcome for the patient.
Precautions
Patients due to undergo surgery are frequently administered antibiotics as a preventative measure against infection. If this does not take place and the patient subsequently develops a severe infection, the medical professionals responsible may be considered to have acted negligently.
Monitoring
Patients who have recently undergone surgery need careful monitoring for signs of an infection setting in.
Symptoms that might suggest that the patient is developing necrotising fasciitis would include:
Intense pain at the site of the wound
Redness, swelling and tenderness at the site of the wound
High temperature
Chills
A rapid heartbeat
Diagnosis
Due to its high mortality rate, a diagnosis for necrotising fasciitis needs to be achieved as quickly as possible.
Unfortunately, early symptoms can be hard to distinguish from other infections but, if the medical practitioner has any suspicion that the patient might be developing necrotising fasciitis, it is vital that they are referred for further investigation.
This may require surgical exploration as the definitive way to identify if tissue destruction is occurring.
Treatment
Antibiotics should be administered immediately and removal of all dead tissue is likely to be necessary to prevent further spread of the infection.
Negligence
A patient who has suffered with necrotising fasciitis may wish to consider if any of the following has occurred:
Were they given prophylactic antibiotics before surgery?
Were their symptoms of infection taken seriously?
Did they receive a prompt and accurate diagnosis
Was the appropriate treatment undertaken as a matter of emergency?
Speak with a solicitor
Glynns Solicitors has supported numerous clients and families who have suffered the shocking effects of necrotising fasciitis.
If you believe that your experience of this condition may have been due to substandard medical care, contact us to discuss your situation with a specialist medical negligence solicitor.
Please call us free on 0800 234 3300 (or from a mobile 01275 334030) or complete our Online Enquiry Form.

---
Testimonials
"Before we contacted you we had no real idea that we had grounds for a medical negligence claim but after speaking to you if became clear that Wendy was indeed treated poorly. Chris took the time to explain what was happening and kept us to speed. Our deepest gratitude to you all and Chris in particular."
"I would like to say a big thank you to you for making this whole process easy and relatively painless. You kept me informed throughout and you were always polite and courteous in all forms of communication. I would not hesitate to recommend you to friends and family, so a really big thank you and I wish you all the best in the future."
» Read More Medical Negligence Testimonials?

Free Nectorising Fasciitis Guide